The global health pandemic has challenged the way education is delivered. The restrictions to face-to-face instructions have led to the implementation of alternative ways of delivering education. In the Philippines, the Department of Education Alternative Learning System (DepEd ALS) has been doing this for years to ensure that all learners can access quality education. Aside from the existing barriers to education, DepEd ALS also needs to respond to the challenges brought by a more technology-infused learning delivery. In partnership with DepEd ALS and UNICEF Philippines, SEAMEO INNOTECH facilitated a week-long training program for ALS teachers last December 2020.
The training program aimed to capacitate ALS teachers to continuously provide education to learners in accordance with DepEd's Basic Education Learning Continuity Plan (BE-LCP). It focused on integrating digital citizenship and mobile technology for 21st century teaching and learning, and aligning it with the new ALS K to 12 Basic Education Curriculum learning strand on digital citizenship. Hundreds of ALS teachers were oriented on the use of SEAMEO INNOTECH's Mobile Technology for Teachers (MT4T) resource kit and how it can help in responding to recent challenges through the week-long activity.
MT4T is primarily composed of e-books and instructional videos that are accessible on a website. The resource kit promote the use of mobile devices and digital platforms for teaching and learning. It also offers infographics and learning packets that are all geared towards promoting a sound digital culture. These resources are important for teachers to be more familiar and adept in using digital technologies in delivering education and building digital citizenship competencies among learners.
The National Orientation consisted of two webinar sessions and a three-day asynchronous phase for selected representatives from 17 DepEd-ALS regional offices. The webinars, held on December 7 and 11, 2020 were broadcasted on the Facebook pages of SEAMEO INNOTECH, DepEd ALS, and MT4T, as well as on the Center's YouTube Channel. This allowed thousands of educators within the country to know more about the MT4T resources and its uses even if they were not part of the selected ALS key trainers that took part in the week-long training program.
Aside from the orientation on MT4T, the webinars also showcased the experiences of two ALS teachers, Ms. Ena B. Chua, ALS mobile teacher from DepEd Region VI – Iloilo City, and Ms. Georly Mae Dabalos, ALS mobile teachers from DepEd Region XI – Davao City. The two ALS mobile teachers tried out the MT4T e-Citizenship Learning Packets to deliver digital citizenship lessons to their learners.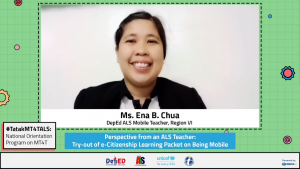 Ms. Chua tried out the learning packet on Being Mobile with her learners. (Watch Ms. Chua's sharing during the second webinar) She said that the learning packet allowed her learners to enhance their critical thinking skills, as well as help them better understand the responsible use of mobile technologies.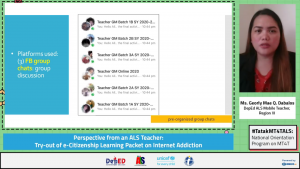 Ms. Dabalos, on the other hand, tried out the learning packet on Internet Addiction with her learners. (Watch Ms. Dabalos' sharing during the second webinar) She said her learners became motivated to share their experiences related to the topic throughout the activity. Their sharing of experiences, as well as other case analysis activities, allowed learners to better engage with and learn from each other. To better facilitate the delivery of digital citizenship lessons covered by the learning packets, both ALS teachers suggested contextualizing the activities for ALS learners; learners tend to be more engaged when they can relate to the activity. Ms. Chua and Ms. Dabalos also encouraged their fellow ALS teachers to use the learning packets to have an informative and enjoyable discussion on digital citizenship.
Officials of DepEd and UNICEF Philippines also graced the webinars to provide additional information on the importance of digital citizenship to ALS. Ms. Ma. Melissa D. Albino, Senior Education Program Specialist of DepEd's Bureau of Curriculum Development, shared an overview of the Learning Strand 6 of the new DepEd ALS K to 12 Curriculum focused on digital citizenship. Ms. Maria Melizza Tan, Adolescent Development Specialist of UNICEF Philippines, served as one of the panel reactors to the sharing of the two ALS mobile teachers. Ms. Tan highlighted the importance of teaching digital citizenship. She also shared other sources of digital citizenship teaching materials similar to INNOTECH's e-Citizenship learning packets. Mr. Ricardo M. Tejeresas, Education Program Supervisor of DepEd Region V, and Mr. Ray Butch C. Mahinay, Education Program Supervisor of DepEd Region X, joined Ms. Tan and SEAMEO INNOTECH's Educational Research and Innovation Office, Mr. Philip J. Purnell as panel reactors.
Also gracing the webinars were senior officials of DepEd ALS, ASec GH Ambat, head of the ALS Task Force, and Dr. Marilette Almayda, Director III of the ALS Task Force; and SEAMEO INNOTECH officials, Mr. Philip J. Purnell, manager of the Educational Research and Innovation Office, and Ms. Michelle Sarabillo, officer of the Learning Management Office.
Aside from the webinar component of the National Orientation on MT4T, around 102 ALS key implementers also had additional learning activities offline from December 8 to 10, 2020. The task-based activities provided opportunities to have an in-depth appreciation of the MT4T resources by trying out the e-Citizenship learning packets, reviewing a set of infographics on the use of social media for teaching and learning, assessing their own competencies in the using social media for their professional growth, listening to podcast episodes on digital citizenship, and sharing insights on the topics covered by the podcasts via the MT4T web forum.
Re-watch Webinars 1 and 2 below:
Know more about MT4T at www.seameo-innotech.org/mt4t.
(This post first appeared on the SEAMEO INNOTECH website on May 3, 2021.)