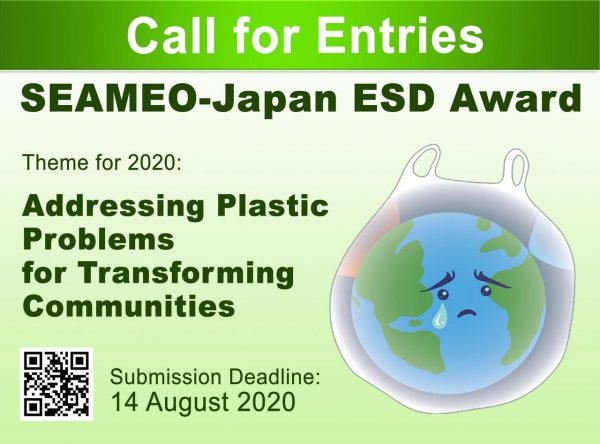 2020 SEAMEO-Japan ESD Award
Since 2012, the Southeast Asian Ministers of Education Organization (SEAMEO) and the Ministry of Education, Culture, Sports, Science and Technology, Japan (MEXT), in cooperation with the UNESCO Asia and Pacific Regional Bureau for Education, have been recognizing the best practices of Education for Sustainable Development (ESD) in schools through the SEAMEO-Japan ESD Awards. For this year, the theme is focused on "Addressing Plastic Problems for Transforming Communities."
ESD, as defined by the United Nations, is a "learning process (or approach to teaching) based on the ideals and principles that underline sustainability and is concerned with all levels and types of learning to provide quality education and foster sustainable human development – learning to know, learning to be, learning to live together, learning to do and learning to transform oneself and society."
The ESD awards primarily aim to raise awareness and share knowledge on ESD. This year's theme hopes to promote waste management system and other plastic initiatives in schools in Southeast Asia and Japan that contributes to the transformation of communities and ecosystems. This will also encourage schools to develop and improve their current ESD activities and programs.
The Awards is open for all public and private schools, including technical vocational schools, in Southeast Asia. Submit your school's ESD practices and get a chance to win up to USD 1,500! Deadline of submission of entries is on 14 August 2020.
Interested to share your ESD practices? Visit the SEAMEO website for more details!