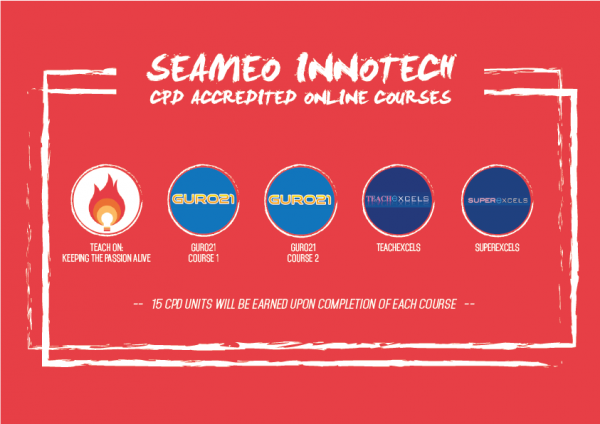 5 INNOTECH online courses accredited for CPD units
Five (5) of SEAMEO INNOTECH's online courses have recently been accredited by the country's Professional Regulation Commission (PRC) for Continuing Professional Development (CPD) units for teachers. Participants of Teach On, GURO 21 Course 1, Guro21 Course 2, TEACHeXCELS, and SUPEReXCELS will now get 15 CPD credits upon their completion.
CPD Training for Teachers in the Philippines
In accordance with R.A. 10912, known as the Continuing Professional Development Act of 2016, Teachers and other professionals in the country are required to earn a certain number of CPD units before they can renew their PRC licenses.
This requirement is to ensure that professionals continuously develop their capacities, upgrade their skills, and stay updated on the latest trends in their respective fields. Specifically, the CPD training requirement for teachers focuses on updating subject matter knowledge and enhancing teaching skills for better learner outcomes.
The required number of CPD units varies from profession to profession; for Teachers, they need to earn 45 CPD units in the span of 3 years. They may opt to take CPD courses online in the Philippines to maximize learning.
Why is CPD Important for Teachers?
The importance of Continuing Professional Development is not only for PRC licenses but for allowing teachers to enhance their knowledge and capabilities. CPD empower teachers to master new teaching strategies, keep their knowledge up to date, and improve learner outcomes. Teachers can better prepare their students for the future when they are well-equipped to teach.
Our Online CPD Courses
SEAMEO INNOTECH has been an accredited provider of CPD for teachers since 2017. This means that completers of any INNOTECH programs may earn CPD units when they apply it as their self-directed learning; its equivalent CPD units depends on PRC's evaluation of the course. With these 5 online courses being accredited by PRC, the number of CPD units granted for the completers are definite.
Check out these SEAMEO INNOTECH online CPD courses for teachers in the Philippines:
Teach On: Keeping the Passion Alive
A Massive Open Online Course (MOOC) that aims to inspire, rekindle and sustain Teachers' passion for teaching
GURO21 Course 1
The course builds the competencies of Teachers in facilitating the development of 21st Century Skills among students
GURO21 Course 2
The course builds the competencies of Teachers in developing Higher-Order Thinking Skills among students
TEACHeXCELS
The course addresses the need to develop and strengthen School Heads' capacity to manage the teaching and learning processes in the school
SUPEReXCELS
The course develops and strengthens the School Head's capacity for developmental, differentiated, and clinical supervision
Learning is a lifelong journey. Explore more capacity building training for teachers offered by SEAMEO INNOTECH.
Train with SEAMEO INNOTECH
SEAMEO INNOTECH offers comprehensive CPD training for teachers in the Philippines that can inspire you to continue striving for excellence.
Interested Teachers and School Heads may contact SEAMEO INNOTECH via email to info@seameo-innotech.org and/or coursemanager@seameo-innotech.org for more details. Alternatively, those interested may sign up through this online form: https://goo.gl/6zo2xW; we will notify you as soon as possible once a schedule has been finalized.