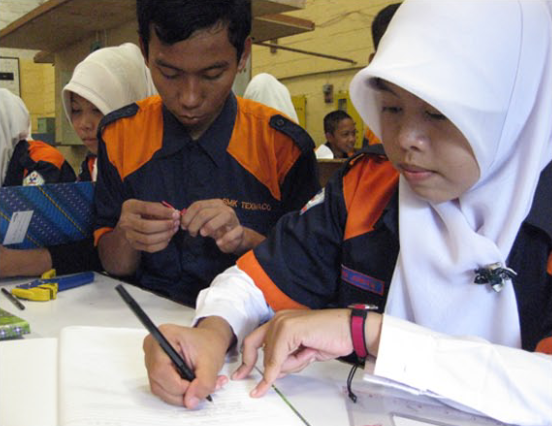 A collection of Secondary Alternative Delivery Mode practices in Southeast Asia
While enrolment in secondary schools has been increasing over the past decade, there are still young people who are not able to access quality and relevant secondary education. There are many barriers that push learners out of the formal school system across the Southeast Asian Region. Hence, Alternative Delivery Modes (ADMs) are one of the best solutions that may help learners who are not in the regular schools acquire the needed basic education competencies and life skills.
SEAMEO INNOTECH delved into a research project to document successful secondary ADMs. The findings were published through a series of case studies showcasing four exemplary ADM programs in the region.
Thailand's Home School Program
The Home School Program of Thailand is a form of alternative education offered to school-age children and young adults who are not in school due to economic reasons, geographical location, migration, religious requirements, or personal circumstances or needs. It is implemented by the family and sometimes, by the local government or religious groups.
The learners have the freedom to choose their programs and develop their learning plan. This allows them to choose areas which they are passionate about and committed to.
Learn more about Thailand's Home School Program through the case study.
Philippines' Open High School Program
The Philippines' Open High School Program (OHSP) started in 1998 with an initial goal of addressing problems of an overcrowded classrooms. Now with the K to 12 reform in place, the program has been refined to cater learners who can't attend regular high school due to varied reasons. OHSP uses the same curriculum implemented by regular schools but are modified to respond to the unique characteristics and needs of the learners. It is implemented in a flexible setup, where students have self-paced independent learning using modules as well as face-to-face interaction with a teacher following an agreed schedule. Once in the program, students design and follow their own learning plans until they finish a grade level. Students have the option to finish their secondary education through OHSP or continue in a regular school system.
Learn more about Philippines' Open High School Program through the case study.
Indonesia's Multiple Entry-Exit System (MEES)
The Multiple Entry-Exit System (MEES) of Indonesia is an alternative delivery model developed by the Ministry to address the rising number of dropouts in the secondary level. MEES allows students to enter school, exit it, and enter again at any given time and in any school they prefer. This also cuts across grade levels, and streams such as formal, non-formal, and informal education. MEES allows learners flexibility in terms of time and place, equal certification, and lifelong and mastery learning.
As the program is done collaboratively by the education sector, industry, and society, it is designed based on industry standards. Learners are trained based on their competency levels and needs in relation to the different industries. MEES prioritizes capacitating learners for employment.
Learn more about Indonesia's Multi Entry-Exit System through the case study.
Vietnam's ADM Program for Island Learners
Vietnam's ADM program for Island learners focuses on developing practical knowledge and skills, creativity, critical thinking, and independent learning among students. The program is flexible in a way that the varying levels of student abilities are considered. While the curriculum is still based on the national curriculum, lessons are contextualized and translated to the learners' native language. The program also adopts a flexible school opening which is based on the number of enrollees.
Learn more about Vietnam's ADM Program for Island Learners through the case study.