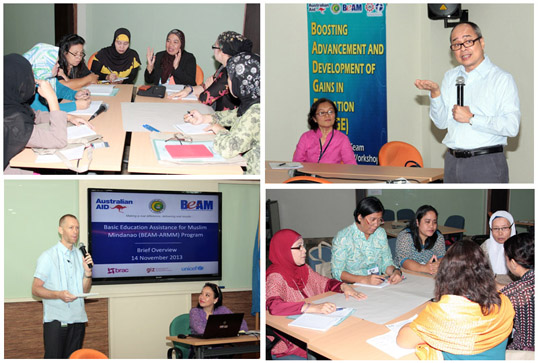 Boosting Advancement and Development of Gains in Education
Selected division and regional education supervisors from the Department of Education in the Autonomous Region of Muslim Mindanao (DepEd ARMM) completed a two-day "appreciative team development" workshop from 14 to 15 November 2013 as a preparatory process for the series of project planning workshops that they will conduct under the initiative "Boosting Advancement and Development of Gains in Education."
Facilitated by SEAMEO INNOTECH consultant, Dr. Juan A. Kanapi, the appreciative team development workshop enabled its participants to collectively come up with a process design and implementation plan for the three-day workshops that they will hold under the BADGE initiative.
BADGE is a program of the DepEd ARMM through the BEAM ARMM, which aims to engage education leaders at all levels to collaboratively discuss and define the priority concerns and issues in identified schools divisions. Similarly, it aims to identify and implement concrete projects anchored on DepEd ARMM priorities and thrusts.
Under this initiative, the first batch of district supervisors in DepEd ARMMM who completed the District Supervisors Leadership Program of SEAMEO INNOTECH, and the recent passers of the National Qualification Exams for School Heads will work together to address priority issues and concerns in their respective schools divisions. Among the schools divisions that stand to benefit from the BADGE initiative are Lamitan City, Lanao del Sur, Maguindanao I and II, Marawi City, Sulu, and Tawi-Tawi.