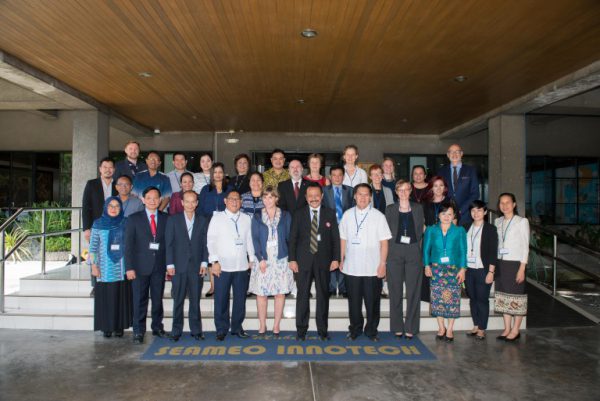 Bringing Partners Together: Regional Fit for School Program Steering Committee Meeting Takes Place
[Original article from the Fit For School International website]
From 23 to 25 April 2018, the Regional Fit for School Program conducted its annual regional steering committee meeting in, bringing government partners from its four partner countries–Cambodia, Indonesia, Lao PDR and the Philippines–together in Manila.
The event was hosted by SEAMEO INNOTECH and was graced by several high-level officials: Dr Gatot Hari Priowirjanto, Director of the Southeast Asian Ministers of Education Organization Secretariat, Philippine Department of Education Undersecretaries Alain del Pascua and Jesus Mateo, Ms Irina Scheffmann, Country Director for the Philippines and Pacific Islands of the Deutsche Gesellschafts für Internationale Zusammenarbeit (GIZ) GmbH.
The meeting allowed partners to present their WASH in Schools (WinS) scale-up status. Discussions on WinS monitoring also ensued with a practical example from the Philippine Department of Education Region VI Western Visayas on how a subnational structure uses WinS data for technical assistance planning and in supporting and advocating for divisions and schools to improve their WinS conditions. Country plans and outlooks beyond 2018 were also tackled.
The regional steering committee meeting was combined with an appraisal mission for the preparation of a program extension. SEAMES, SEAMEO INNOTECH, government partners and selected development partners were interviewed to determine technical assistance needs.
The Regional Fit for School Programme is implemented by the Deutsche Gesellschaft für Internationale Zusammenarbeit (GIZ) GmbH, as part of the German Development Cooperation and in collaboration with Southeast Asian Ministers of Education Organisation´s Regional Center for Educational Innovation and Technology (SEAMEO INNOTECH) in the Philippines, Lao PDR, Cambodia and Indonesia. After a successful research and development phase from 2011-2015, the program is now supporting government partners in scaling up the approach to more schools in Southeast Asia.