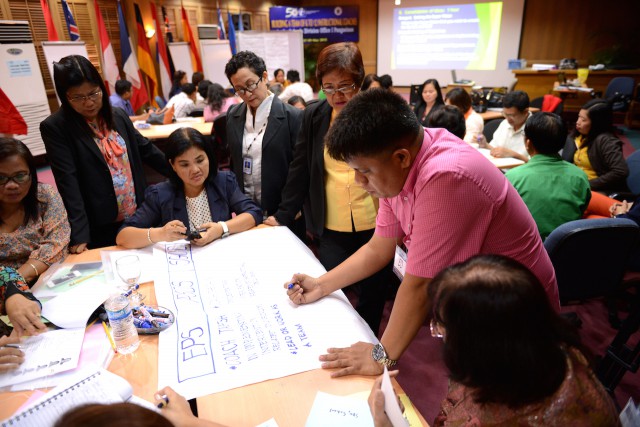 Building a team of K to 12 instructional coaches
SEAMEO INNOTECH conducted a 3-day program to build a team of K to 12 instructional coaches in the School Division Office 1 of Pangasinan. Last 7-9 May 2015 at the SEAMEO INNOTECH Center, 43 participants, consisting of division and district supervisors that will serve as the instructional coaches, were able to develop an action plan that outlined the School Division-wide K to 12 instructional plan.
This program was organized to strengthen the support system for K to 12 at school level under the new structure of the School Division Office, with Dr. Maria Celia J. Fernandez as the new head. Under the new structure, there are two units in the School Division Office, Curriculum Implementation and School Governance and Operations. These units are headed by Division or District Supervisors who are expected to provide technical assistance to the schools and learning centers.
Through the sessions of this program, the participants were able to understand and appreciate their roles and responsibilities better, and how they impact on the implementation of K to 12. They were also able to identify better working arrangements to build and sustain quality and sustainable relationship within the Division Office. Team building activities were also done to strengthen the team spirit and their coordination.