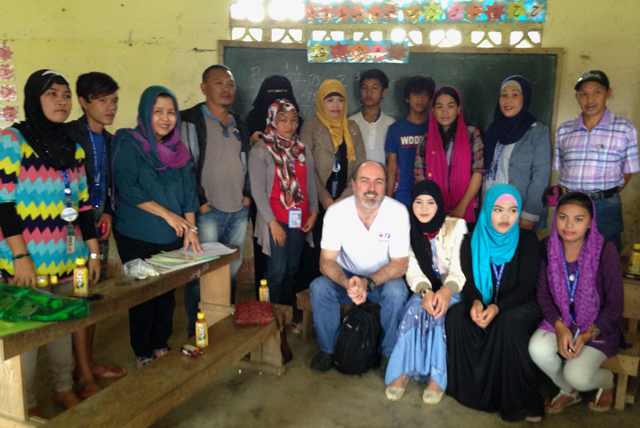 Center conducts program audits of OSY programs in Mindanao
SEAMEO INNOTECH was requested by the Education Development Center (EDC) to help design and conduct a series of audits of its alternative learning programs for Out of School Youth in conflict-affected areas of Muslim Mindanao as part of the USAID-funded Mindanao Youth Development (MYDev) Project. The purpose of the audits is to assess the quality of existing MYDev ALS, life skills and vocational training programs and identify areas for further program improvement.
Program audits were conducted in MYDev project sites in Zamboanga City on 17-19 November 2014 and Marawi City on 25-26 November 2014 by an EDC team led by SEAMEO INNOTECH ERIO Manager, Mr Philip Purnell, who is engaged as Senior Technical Adviser to the MYDev Project. The audit involved interviews with OSY learners, their instructional mangers, and local project managers, reviews of project files and records, as well as ocular inspections of training venues and Community Learning Centers. Initial audit findings confirm that while many OSY have benefited from the MYDev training programs, there are significant dimensions of the programs requiring improvement including access to learning materials, competencies of instructional mangers, the need for differentiated instruction, appropriateness of  learner assessment methods and securing conducive learning environments. SEAMEO INNOTECH will be working with EDC over the coming year to try and address these quality challenges through provision of additional technical assistance and capacity building of program implementers.
MYDev is a five year  USAID-funded project 2013-2018 serving 19,000 vulnerable out-of-school youth in eight (8) conflict-affected areas, specifically: Cotabato City, Marawi City, and Parang, Maguindanao; Zamboanga City, Isabela City, Lamitan City, and Jolo and Indanan in Sulu.