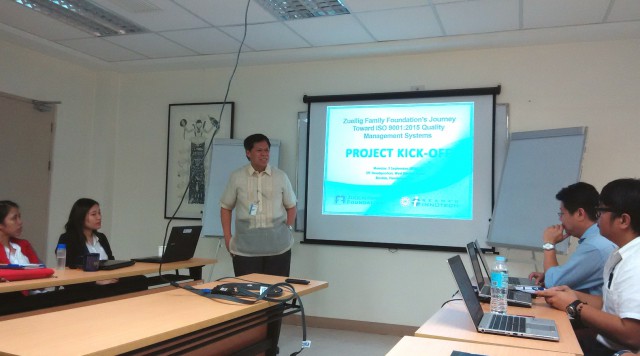 Center conducts Technical Assistance to Zuellig Family Foundation
Quality management is redefining how modern industries and organizations manage their operations and processes. It is for most organizations around the world, a part of the requirements in doing business. SEAMEO INNOTECH, over the years, has shown its commitment to quality management through its consistent certifications to ISO standards since 2004.
On 5 September 2016, the Zuellig Family Foundation (ZFF) officially launched its project entitled: Journey Towards ISO 9001:2015 Certification. SEAMEO INNOTECH through its Quality and Systems Management Office (QSMO) was engaged to provide technical assistance and hand-holding to ZFF as they implement quality management system to the organization.
Held at the ZFF Headquarters in Parañaque City, the project kick-off was participated by the ZFF Management Committee and QSMO staff. Heads of the two organizations – Dr. Ernesto Garilao, ZFF President, and Dr. Ramon Bacani, SEAMEO INNOTECH Center Director – were also present during the launch.
Mr. Jerald Dela Rosa, SEAMEO INNOTECH Consultant, gave a brief introduction about ISO 9001: 2015 and presented the project overview to the ZFF Management Committee. Covered under the technical assistance are support to ZFF in ensuring that their quality management system is compliant to the ISO 9001 2015 version and ready for certification by April 2017.