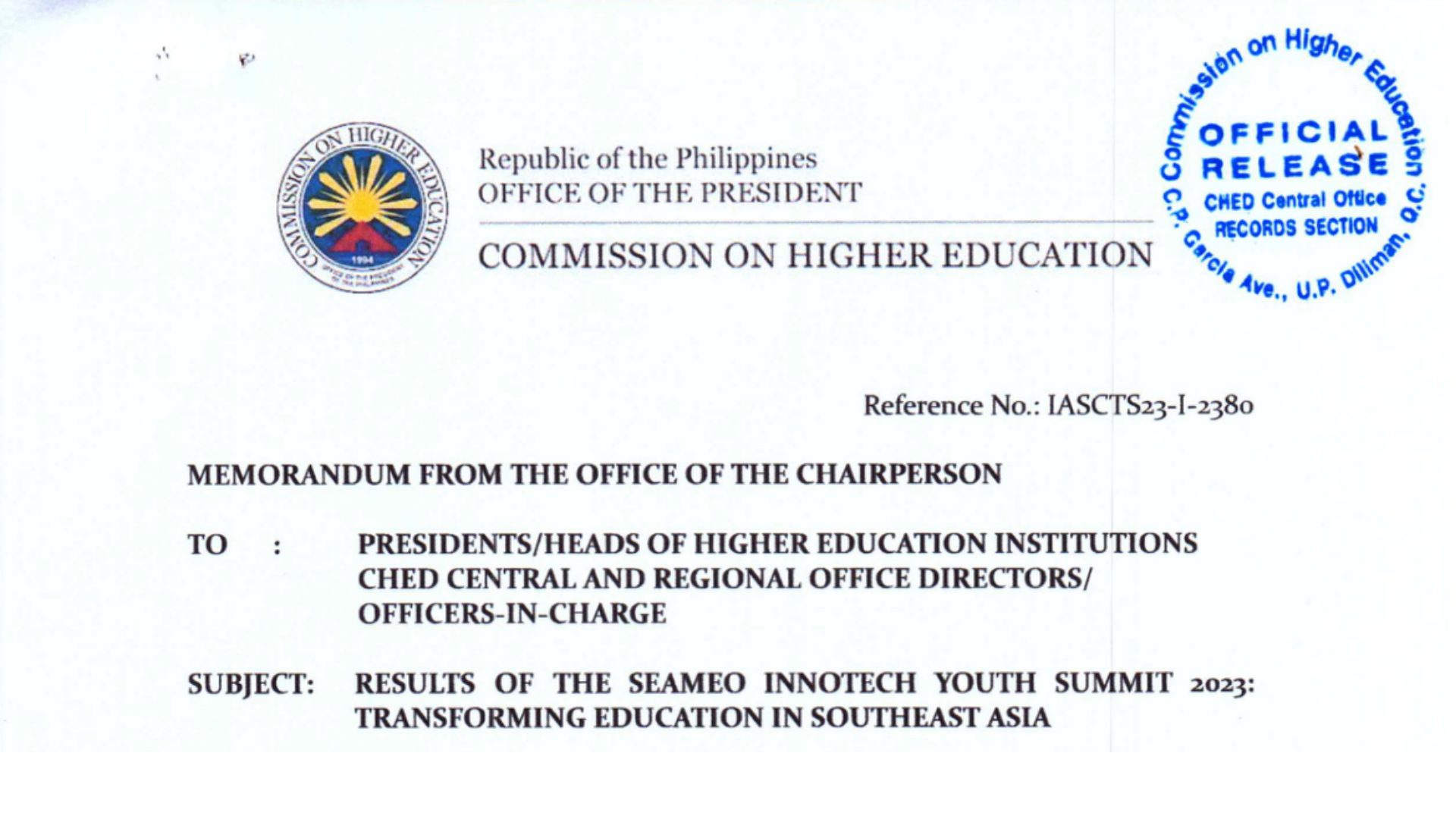 CHED Released a Memo Sharing the Youth Summit Results
In a significant move towards empowering the youth and transforming education across Southeast Asia, the Philippine Commission on Higher Education (CHED) has disseminated the results of INNOTECH's first-ever youth-led forum, "Youth Summit 2023: Transforming Education in Southeast Asia."
The Youth Summit, held in June 2023, served as a platform for over 200 participants to discuss 69 successful grassroots innovations and initiatives in different communities in the SEA region. These initiatives were focused on eight thematic areas: (1) entrepreneurship, (2) digital learning and transformation, (3) learning through arts and technology, (4) youth leadership, (5) inclusive education that embraces diversity, (6) environmental resilience, (7) psychosocial and mental well-being, and (8) learning support.
Central to the summit's outcomes is the Youth Declaration on Transforming Education, which expresses the insights of the youth "to drive political commitment on the need to transform education and build young people's ownership over this process." This inspiration led to the Southeast Asia Youth Call to Action on Transforming Education, summarizing the SEA youth's suggestions and urging for youth involvement at the core of educational transformation through collaboration.
The dissemination of the Youth Summit proceedings by CHED marks an important milestone in recognizing the significant role of youth in influencing the educational landscape. The support given by CHED acknowledges the potential of youth-led initiatives and their capacity to drive transformative change in education.
In this era of innovation and collaboration, Southeast Asian youth are not merely recipients of education policies; they are active creators of their educational paths, shaping the region towards a future of inclusive and equitable learning. Believing that youth is the forefront of the future, SEAMEO INNOTECH is committed to support the #SEAYouth core group by disseminating the Summit's results, and continuing partnerships with them.
For further details, the official memorandum from CHED can be accessed here. Additionally, the Youth Summit proceedings are available at bit.ly/ys2023proceedings, and the live video documentation of the summit can be found on YouTube here. For insights into the broader international efforts towards transforming education, the Transforming Education Summit of the United Nations can be explored here.