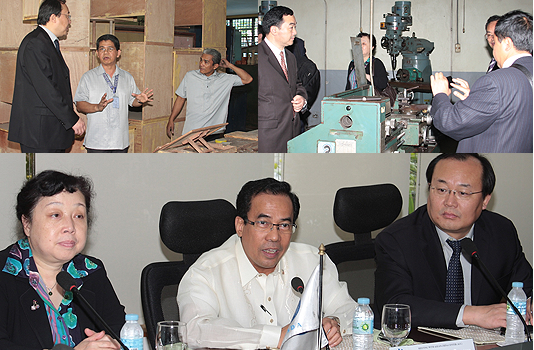 Chinese officials benchmark on Philippines TVET program
A small delegation from China were in the Philippines early this month to benchmark on technical-vocational education and training programs. SEAMEO INNOTECH, through its Knowledge Management and Networking Office, facilitated the visit on 11 to 12 February 2014 for representatives of the ASEAN-China Centre, the Guizhou Provincial Department of Education, and the China Education Association for International Exchange.
The delegation visited the Technical Education and Skills Development Authority for a dialogue with its officials to gain insights on how the Philippine government runs its TVET program. They also went to the MFI Technological Institute—one of two operating centers of the MFI Foundation, which is recognized as a "Model Center of Excellence" by the Asean Economic Ministers-Japan Economic and Industrial Cooperation Committee for its industrial, technical and vocational education.
In addition, the delegation observed classes at two secondary schools offering tech-voc education—the Don Alejandro Roces Sr. Science and Technology High School (DARSSTHS) in Quezon City, and the ERDA Technical and Vocational Secondary School. DARSSTHS is the only science and technology school in the National Capital Region that offers a strengthened tech-voc education curriculum. ERDA Tech, on the other hand, offers a free five-year high school education with training on a special technical course to poor but deserving students.
Apart from providing a glimpse of the country's TVET program implementation, the two-day benchmarking visit likewise provided opportunities for possible collaboration on TVET projects with local public and private organizations.