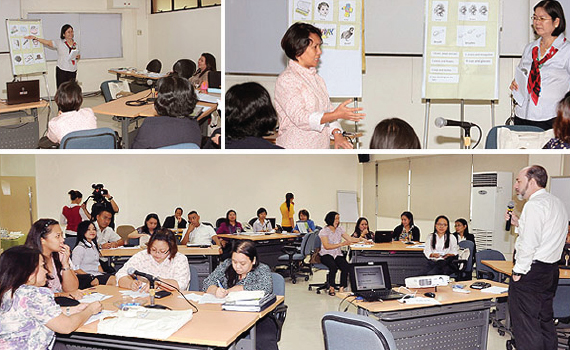 DEPED-BEE OFFICERS TAKE COURSE ON IMPACT LEARNING SYSTEM
Staff members from the Philippine Department of Education – Bureau of Elementary Education (DepEd-BEE) are completing today a course on SEAMEO INNOTECH's Instructional Management by Parents, Community and Teachers (IMPACT) learning system. The Center's Solutions Development Unit is facilitating the orientation cum training of the DepEd-BEE staff to enable them to gain full appreciation of the IMPACT system and its implementation strategies.
The three-day course particularly gave an overview of the general set-up of an IMPACT school, the different modes of instructional delivery under the system, the different learning principles, as well as the challenges and rewards of converting to an IMPACT system. The course also featured demo lessons conducted by the SEAMEO INNOTECH training team for better insights on how IMPACT classes are held and how lessons are delivered. A follow-through discussion on the roles of the school head, the teachers and the learners under the IMPACT system was also done.
The course concludes with a simulation of an IMPACT class to be led by the DepEd-BEE officials and staff. They will act as programmed teachers or peer group leaders delivering IMPACT lessons for Levels 4 to 6. A class of 60 students coming from Levels 1 to 6 of a nearby public elementary school have been invited to take part in this culminating activity.
The orientation cum training is being held in aid of the DepEd's thrust to propagate the adoption and implementation of various effective alternative learning modalities in the delivery of basic education.