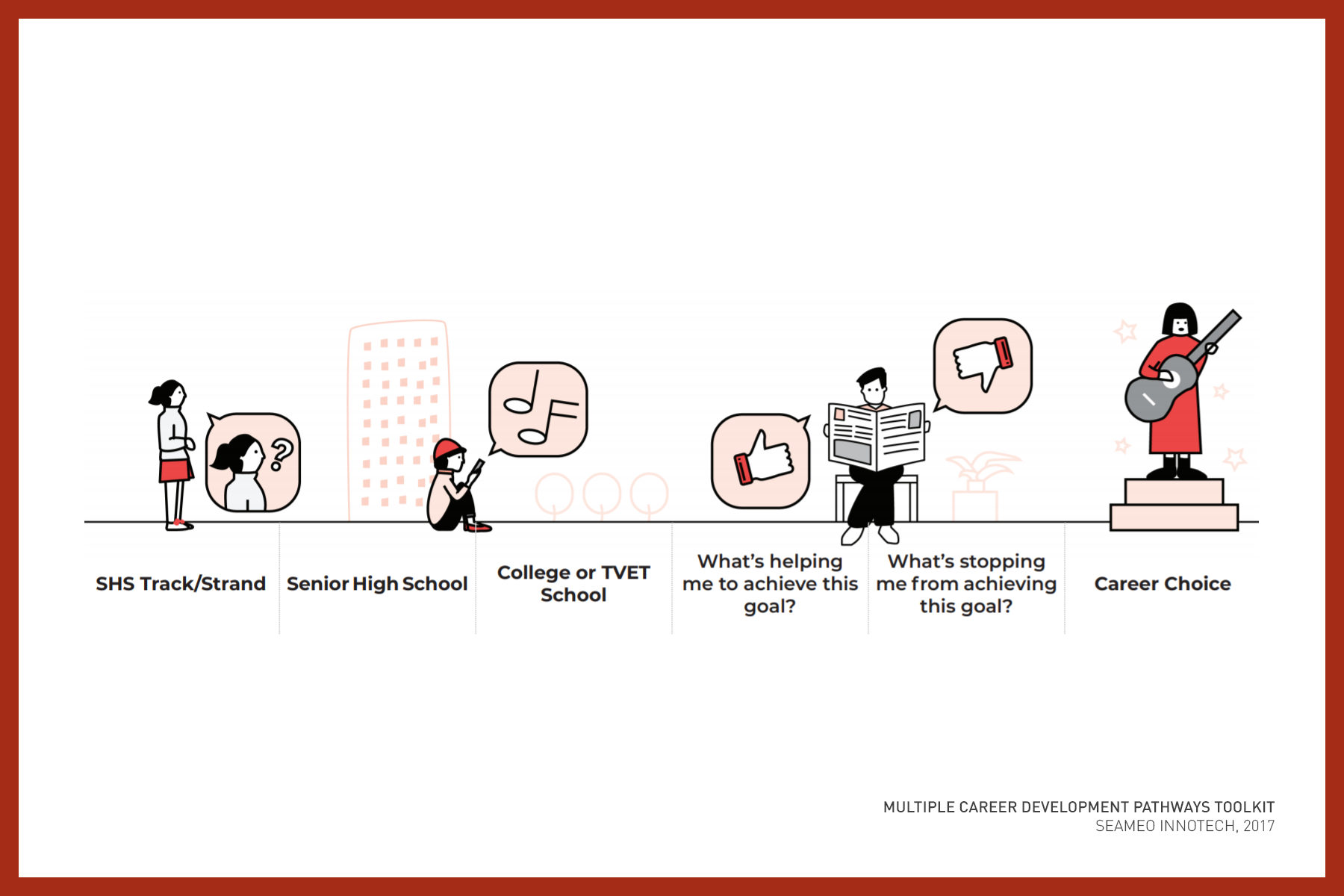 DepEd endorses INNOTECH's Multiple Career Development Pathways Toolkit
Senior High School is one of the key stages in basic education. At this stage, students prepare for and explore different career options and decide on a path that suits them best. Choosing a career path is a difficult decision that students must make, and teachers, being career advocates, are there to support learners in making informed decisions about their career options and pathways.
A recent Circular issued by the Department of Education (DepEd) – Bureau of Curriculum Development to the Schools Division Offices, endorsed the Multiple Career Development Pathways (MCDP) Toolkit developed by SEAMEO INNOTECH. DepEd encouraged its advisers, career advocates, and guidance counselors to use the toolkit for the implementation of the Career Guidance Program for senior high school students to help them choose a track related to their desired career and identify pathways in planning to achieve that career choice. DepEd offers four senior high school tracks: academic track in preparation for specialization in college; technical-vocational & livelihood track for skilled trade and technical careers; arts and design for the performative and creative industry; and a sports track for the sports industry.
SEAMEO INNOTECH developed the MCDP Toolkit back in 2017 in partnership with DepEd. It is a tool that Homeroom Guidance Teachers can use to guide their students in choosing a career track aligned with their interests, strengths, passions, and career opportunities. The tools and activities in this resource kit help present the various possible career paths that a student may consider to arrive at their chosen career goal.
While the activities in the Toolkit are arranged in specific sections, they can be used without following any prescribed order. Each material is a stand-alone topic and may be customized to address the needs of the students on demand basis. One can start with envisioning the life they want to live as an adult, or they can start by assessing their individual interests and skills. What is important is that students are given enough time to think and reflect on each learning activity. Teachers should keep in mind that their role as a career advocate is to encourage students to plan early and develop a sense of ownership of their career planning journey.
Career planning is a lifelong process that entails a lot of reflection, investigation and decision making based on a realistic assessment of personal strengths and weakness, opportunities for further education, training, or employment, financial and moral support of parents and guardians and a clear desired future or career plan. Planning a career also means planning for the rest of your life. Careers are not static or fixed pathways, but it may adapt to anyone's changing circumstances, experiences, and interests. Students may review and update their plans and career portfolios periodically or as necessary when their career goal changes. The MCDP Toolkit supports students to i) explore different pathway options—from school-to-work and/or work-to-school, ii) help them carry out their plans and, iii) keep track of their career goals.
Help your students map out their career plans through the MCDP Toolkit! SEAMEO INNOTECH has provided printed copies of the MCDP Toolkit to the DepEd Regional and Schools Division Offices. A PDF as well as a customizable PPT deck of the MCDP Toolkit may also be accessed and downloaded on the INNOTECH website for free and for non-commercial use only.