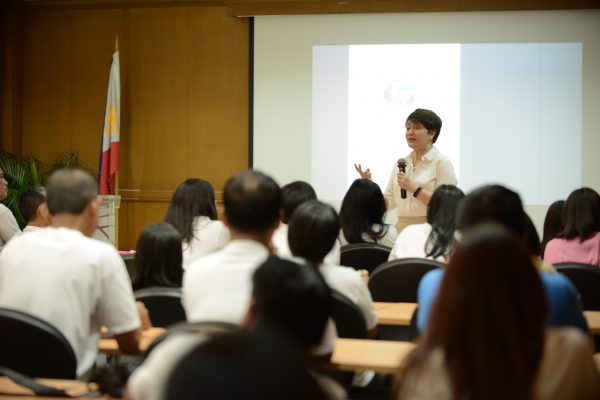 DepEd Region I District Mathematics Coordinators and District MATARI visit SEAMEO INNOTECH
On 27 April 2018, the Association of District Mathematics Coordinators and the District Mathematics Teacher Association of Region I (MATARI) from the Department of Education (DepEd) Division of Ilocos Sur visited SEAMEO INNOTECH as part of their Capacity Team Building Activity.
SEAMEO INNOTECH, introduced some of its programs that would help the teachers in facilitating their classroom and school activities related to Mathematics, as well as apprise them on how they can further manage their own professional development.
The 79 teachers and district coordinators were introduced to the SEAMEO INNOTECH's flexible learning courses—GURO21 and eXCELS courses—as well as its current and pilot Massive Open Online Course (MOOC) on rekindling and sustaining passion for teaching. Dr. Sharon Chao, Manager of the Center's Learning Management Office, discussed to the group the Competency Framework for Southeast Asian School Heads, which served as SEAMEO INNOTECH's basis and anchor in developing capacity-building initiatives for school leaders in Southeast Asia.
Useful methods and tools for facilitating teaching and learning in the classroom, such as Mobile Technology for Teachers (MT4T) and Inquiry-based Teaching and Learning (IBTL), were also discussed through the visit. Through the brief discussion about MT4T, the group was introduced to the use of online platforms like Facebook, Twitter, WordPress, and Edmodo in classroom activities. Digital Citizenship research project was also presented during the visit, encouraging the teachers to be responsible users of technology and to teach responsible e-Citizenship to their students. IBTL was showcased along with some good practices observed around Southeast Asia. A quick update on the status of the Multi-grade Program in the Philippines was also given to the participants during the visit.
With the K to 12 curriculum in place, greater challenge is put on the shoulders of teachers. SEAMEO INNOTECH Director, Dr. Ramon C. Bacani, thanked the group for having the initiative to improve on their capabilities by doing activities such as this. "I know you are all ready and prepared [for the K to 12 system]…we encourage you to do your best as math teachers and make mathematics fun for all learners," he said.
The study visit of the Association of District Mathematics Coordinators and the District MATARI from the DepEd Division of Ilocos Sur was made possible through the coordination of the External Partnerships Service of DepEd, headed by Director Margarita Ballesteros.