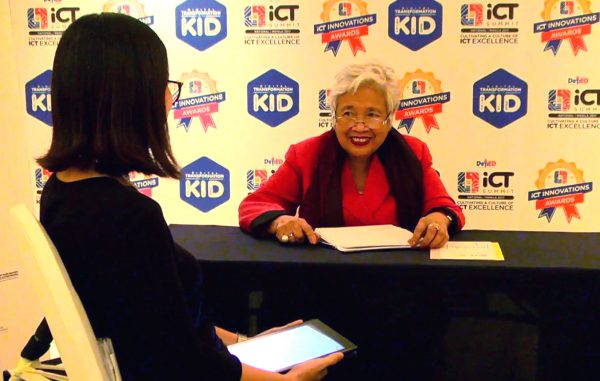 DepEd Sec. Briones shares flexible solutions and alternative programs to ensure every Filipino child has access to quality education
Through a Facebook Live session hosted by SEAMEO INNOTECH on February 27, the Philippine Department of Education (DepEd) Secretary Leonor Magtolis-Briones shared the Department's current and upcoming programs to ensure that every child has access to an inclusive, balanced and quality education.
A day in the life of a DepEd Secretary
"What is the challenge for the day?" Sec. Briones said this is the first thing that comes to her mind every morning.
Hardly distinguishing a weekend from a weekday, Sec. Briones goes here and there to attend to different meetings, conferences, and events trying to juggle different issues at hand. She said that they try their best to respond to impending issues immediately as the demand for it is high, particularly in this age of social media.
What drives her to keep up with this challenge is her sense of duty. Even with the unexpected travels to the different parts of the country, even with the full-packed schedule, even if there would be risks, "if it has to be done, it has to be done," she said.
An advocate of inclusive education
"We believe that Education will help in achieving and attaining solutions to poverty." Sec. Briones said. "I think we are one of the few countries in the world which really specifies Education as a very important component of development and a right of our citizens." She added, emphasizing the need to provide quality education for all.
As a champion of inclusive education, she considers it a peak moment when Education received the highest share of the national budget. Achieving it after years of campaigning along with other civic society organizations, this has become a valuable event for her. And as the DepEd Secretary, it was a high point for her when the Philippine President himself supported and prioritized Alternative Learning Systems (ALS).
Sec. Briones' drive to pursue and expand the country's ALS is deeply rooted from her childhood experience. As young as three years old, Sec. Briones has appreciated non-formal education as she sees groups and individuals—her mother included—go the extra mile just to teach children how to read and write amidst the ongoing world war.
Although they consider ALS as the Department's flagship program, she recognizes and gives credit to religious groups, civil society organizations, and private groups who have been doing ALS programs even long before.
"The Department did not invent ALS, it has always been there," she said. "What we did is to organize it, provide facilities, and develop learning materials," Sec. Briones added. DepEd encourages local government units to put up learning centers and identify out of school children for their ALS programs. They also encourage ALS learners to take equivalency tests so that they can be at par to those in the formal schools.
"I think we have done substantial progress in ALS, but I think there are still a lot to be achieved," Sec. Briones said. She also mentioned that, as long as formal schools are not accessible for all, out-of-school children will continue to be a challenge for the Department.
Beyond ALS
Aside from ALS, the Department has also established flexible solutions like night schools and online courses, for those who want to attend formal school but can't due to certain reasons. Sec. Briones also mentioned about the different tracks on the Senior High School program and encouraged students to explore their options.
Sec. Briones shared some of their planned projects related to the use of ICT to reach more children, particularly in the remote areas. She said this is not just about the use of computers, but of using different technologies, contextualizing and localizing it, to address their needs.
Inclusive education is a task for all
Sec. Briones emphasized that this is not just a task for DepEd, it is the task of the whole system. This is not just about funding schools or providing teachers, she said this is about improving the whole country.
According to her, DepEd needs to work closely with other government agencies in providing access to education for those children in the remote areas. She mentioned about their collaborative plans with concerned government offices to build roads, bridges, and dormitories to ease difficulty of going to schools in the barrios.
Aside from the different government agencies, she also calls on the help of non-government organizations and private sectors, as well as the participation of the parents in making education accessible and inclusive to all learners.
"I'm looking forward to a more expanded inclusive quality education." Sec. Briones said. She shared her hope for all learners, be it a learner in the city or in the barrio, to develop skills that they need, learn how to solve problems, and be creative.
Hear more stories of how those in the margins have strived and succeeded in addressing issues surrounding inclusive education. Join the 15th SEAMEO INNOTECH International Conference, "Thriving in the Margins: inclusive Education Re-imagined," happening this March 6-8 in Quezon City, Philippines. Learn more about the conference and register through [https://seameo-innotech.odoo.com].
This conference is co-organized by the Department of Education, Commission on Higher Education, Technical Education and Skills Development Authority, The Education Relief Foundation, Asia South Pacific Association for Basic and Adult Education and sponsored by Resorts World Manila, Local Government of Quezon City, Private Education Assistance Committee, The HEAD Foundation, Government Service Insurance System, Lopez Group Foundation and Servicio Filipino Inc.