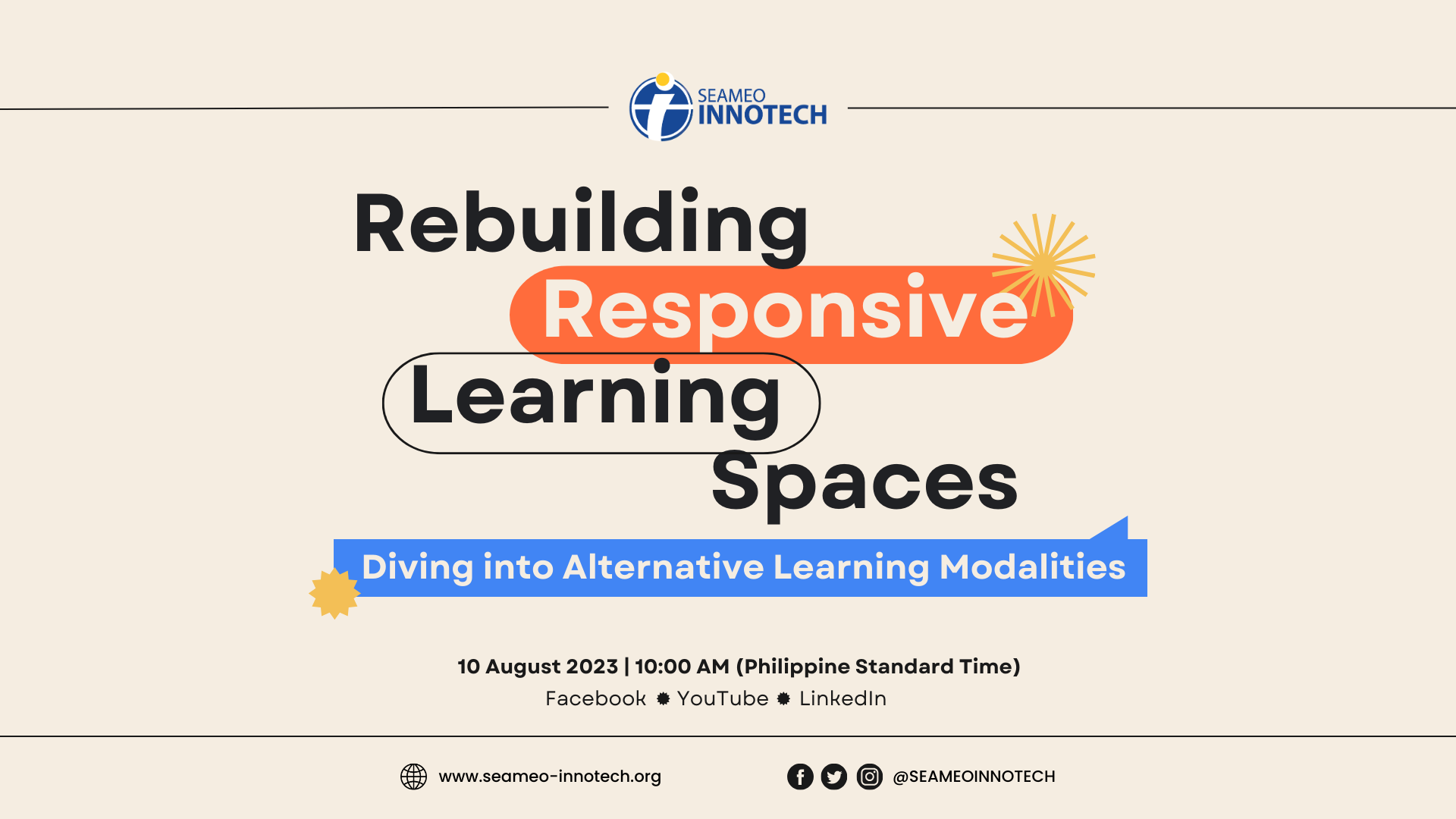 INNOTECH Emphasizes Initiatives on Making Responsive Learning Spaces
INNOTECH held a webinar last 10 August 2023 titled Rebuilding Responsive Learning Spaces: Diving into Alternative Learning Modalities (ALM). It was done online through INNOTECH's official YouTube, Facebook, and LinkedIn accounts, drawing teachers from Indonesia, Malaysia, the Philippines, Myanmar, and Thailand, including school heads, and administrators. 
The primary objective of this webinar was to raise awareness on the importance of continuing education in different contexts and challenges as well as share experiences on how various learning spaces changed after the pandemic. Moreover, it aimed to share insights into how different learning environments evolved in response to the pandemic. Most importantly, the event sought to present innovative ways for educational institutions to embrace alternative learning modalities, thereby ensuring more adaptable and responsive learning spaces in the future. To achieve these goals, INNOTECH brought together experts from UNICEF Philippines, Philippine Department of Education (DepEd), Save the Children Philippines, and SEAMEO Secretariat to share their valuable insights and expertise. 
The webinar started with an opening address from INNOTECH Director Prof. Leonor Magtolis Briones. In her speech, she highlighted the importance of ALM in addressing educational disparities, especially in remote areas, and as an option for learners who cannot regularly attend traditional school. "Learning from all our past experiences, we want to highlight further the importance of the continuity of learning, and how alternative learning can help make it happen," Prof. Briones stated. 
Isy Faingold and Cheska Guzman from UNICEF delved into the significance of education and continuous learning in addressing contemporary challenges. They also provided current insights into the status of learning loss and recovery in Southeast Asia post-COVID-19 in their keynote presentation. A panel discussion followed the keynote speech with INNOTECH's own specialists, Lauren Bautista and Emmy Yanga-Domingo. They were joined by Kaylene Fernandez, the host of the event, in discussing the concept of ALM as whole. They emphasized the vital role of ALMs, particularly those tailored for Southeast Asia, in addressing current educational challenges such as limited access to schools, overcrowded classrooms, economic disparities, and emergency situations. 
The webinar's next segment featured another panel discussion, which examined the implementation of various ALMs across Southeast Asia, with a specific focus on the Philippines. Kaye was joined by another set of experts, Dr. Leila Areola, the Director of the Bureau of Learning Delivery at the Philippine Department of Education, and Marlon Mantuguina, the Program Manager for Risk Reduction and Resilience in Education and Governance at Save the Children Philippines. They shared their organizations' strategies, experiences, and challenges in implementing ALMs, offering valuable insights for participants looking to apply similar approaches in their learning spaces. 
After the panel discussions, Prasert Tenapart, the former Deputy Director for Administration and Communication of the SEAMEO Secretariat, synthesized the preceding sections of the webinar. He highlighted that ALMs have existed in various forms, including temples, beyond traditional schools. Tenapart stressed the importance of implementing these programs in diverse learning environments. 
Mr. Tenapart also underscored how different organizations' methods and strategies for implementing ALMs allowed learning to persist despite natural and man-made challenges, especially during the COVID-19 pandemic. ALMs, he argued, should be regarded as a viable solution to address the ongoing educational challenges, enabling children from diverse backgrounds to keep pace with their peers. 
The concluding segment featured Dr. Kamaleswaran Jayarajah, the Research, Evaluation, and Assessment Specialist from SEAMEO Secretariat. Dr. Jayarajah emphasized that the recent pandemic affected over 1.5 billion children and youth in 165 countries due to the closure of schools and universities. He advocated for ALMs as practical options, offering learners the flexibility to study anywhere, anytime, and at their convenience. "ALM is one of the best solutions that would help learners acquire the basic education competencies and life skills… to ensure inclusive, equitable, and quality education for lifelong learning," he remarked. 
Watch the replay of the webinar below: 
To learn more about Alternative Learning Modalities, feel free to read through the INNOTECH knowledge products, Alternative Education in Emergencies, the Toolkit on Alternative Learning Modalities for Secondary Education in Southeast Asia, and the Toolkit for Building Disaster-Resilient School Communities in Southeast Asia.  
You can also check out more resources at https://www.seameo-innotech.org/iknow/.