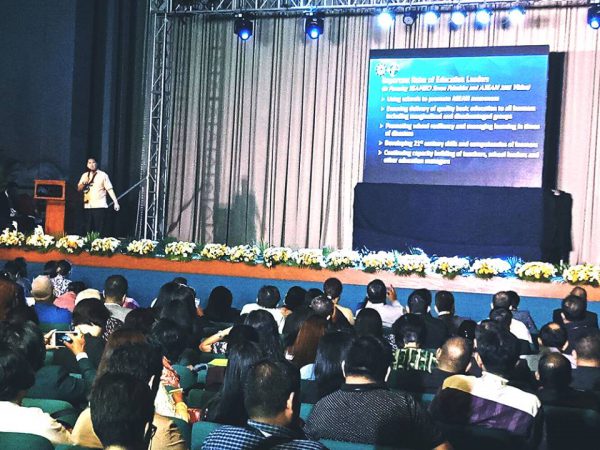 Dr. Bacani talks about role of education leaders in the ASEAN community
On 21 September, SEAMEO INNOTECH Director, Dr. Ramon C. Bacani, participated as a plenary speaker in the 1st National Assembly of Education Leaders held at the Philippine International Convention Center. Dr. Bacani talked about the roles of education leaders in the ASEAN community, as well as SEAMEO INNOTECH's relevant programs and projects.
Dr. Bacani highlighted that in pursuing the SEAMEO 7 Priorities and ASEAN 2025 Vision, education leaders have an important role of ensuring that quality basic education is delivered to all learners, including marginalized and disadvantaged groups. They also have a role in promoting school resiliency, making sure that learning is still managed even in times of disaster. He also said that schools should be a platform to increase the learners' awareness of ASEAN. Among other roles he mentioned, he pointed out that it is also important to have continuous capacity building of teachers, school leaders, and other education managers in order to achieve these regional goals.
Furthermore, as part of his session, he shared some flagship programs and products of SEAMEO INNOTECH which supports the SEAMEO 7 priorities and AEAN 2025 Vision. He highlighted the Center's flexible courses like ASEANeXCELS, LEADeXCELS, PEACeXCELS, and GURO21 which aims to develop the capacity of teachers and school leaders in fulfilling their roles. He also mentioned Weaving Identities, a toolkit containing learning materials and references about the Southeast Asian community, and MT4T, a resource kit for teachers on the use of mobile technology in Southeast Asian educational settings.
The 1st National Assembly of Education Leaders is a 3-day event organized by the Philippine Department of Education through the Association of DepEd Directors Incorporated. The Assembly aims to provide a venue for education leaders to strengthen their capabilities as public servants. Over 4,000 education leaders from across the country attended the said event.