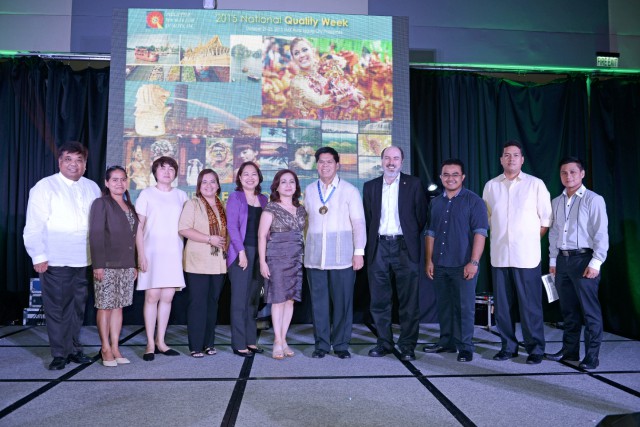 Dr. Ramon C. Bacani receives Juran Medal Award
SEAMEO INNOTECH Center Director, Dr. Ramon C. Bacani, received the Juran Medal Award on 22 October, 2015 at the SMX Convention Center, Taguig City. This award, given by the Philippine Society for Quality (PSQ) during its annual National Quality Forum, recognizes the significant contribution of an organization's senior executive in the field of quality management in the Philippines.
As the Center Director of SEAMEO INNOTECH, Dr. Bacani has championed the ISO 9001:2008 certification that the organization has successfully maintained for the past 10 years. Under his leadership, SEAMEO INNOTECH achieved its second quality certification or ISO 29990:2010 for its Leaning Services Management System. SEAMEO INNOTECH is the first regional center in Southeast Asia whose entire operation is certified against this standard.
Dr. Bacani advocates continual improvement as way of life. Evaluation mechanisms are well in place at all levels of SEAMEO INNOTECH operations to make sure that the Center is kept firmly grounded by feedback from its clients and stakeholders. He also instituted a process of assessing and managing risks aimed specifically to ensure responsiveness of the Center's training and learning services to clients' needs and requirements.
Before he assumed the Center Director post, Dr. Bacani served the Philippine Department of Education as Undersecretary for Regional Operations, Undersecretary for Programs and Projects, and Assistant Secretary for Planning in charge of human resource development. He also served as a consultant in education projects funded by the Asian Development Bank and World Bank in several Asian countries.