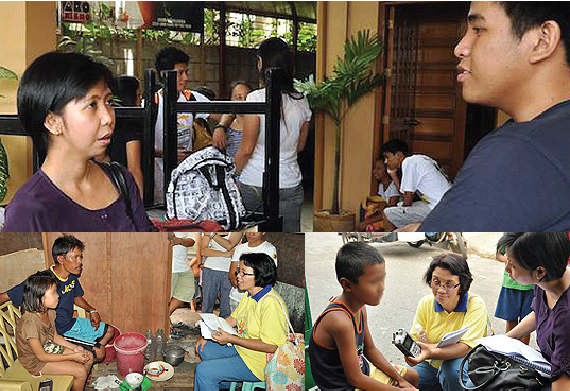 EFA PROMISING PRACTICE: A CASE STUDY ON KARITON KLASRUM PROGRAM
SEAMEO INNOTECH is working on a project commissioned by UNESCO Bangkok to get an in-depth understanding of a mobile classroom program that has great potential of helping the country reach its Education for All targets.
The Kariton Klasrum program of a local NGO, the Dynamic Teen Company, was recently adapted by the Philippine Department of Education in recognition of its potential to be a viable alternative delivery mode for formal schooling of out-of-school youths. The program makes use of "kariton" (pushcarts) filled with learning materials and brought to the streets to engage street children in learning activities, health care and feeding sessions. This year, to provide additional support to the learners of the Kariton Klasrum, their families, mostly homeless, became recipients of the government's modified conditional cash transfer program.
With these developments, UNESCO Bangkok regarded the Kariton Klasrum program as one of those with promising impact in terms of accelerating achievement of EFA goals in the Asia-Pacific region.
Part of SEAMEO INNOTECH's deliverables under the project is an analytical overview of the program, which will include historical background and rationale; profile of its target learners; program content, management, and implementation; success factors; hindering factors, or challenges; and lessons learned. The case study will also present the program's impact based on the experience of a former learner who is now in the mainstream education. Likewise, it will discuss the DepEd's plan to replicate and expand the Kariton Klasrum's coverage to transform it into an ADM program.
The case study will rely on both qualitative and quantitative data that will be gathered through the conduct of (1) focus group discussions and one-on-one interviews, (2) observation of an actual Kariton Klasrum session, (3) partnership survey for DTC's partners, (4) profiling of DTC's volunteers, (5) review of learner profiles, and (6) review of the program's toolkit.
The Center's Research Studies Unit is on top of this project. Before finalizing the report by end of November 2013, the RSU is expected to hold a workshop to validate the findings of the case study and this will involve officials of the DTC, and representatives from the government, NGOs, and international organizations.