tue20sep(sep 20)8:00 amfri23(sep 23)5:00 pm53rd Asia-Pacific Academic Consortium for Public Health (APACPH)8:00 am - 5:00 pm (23) GMT+8 Manila Marriott Hotel Event Organized By: SEAMEO TROPMED Philippines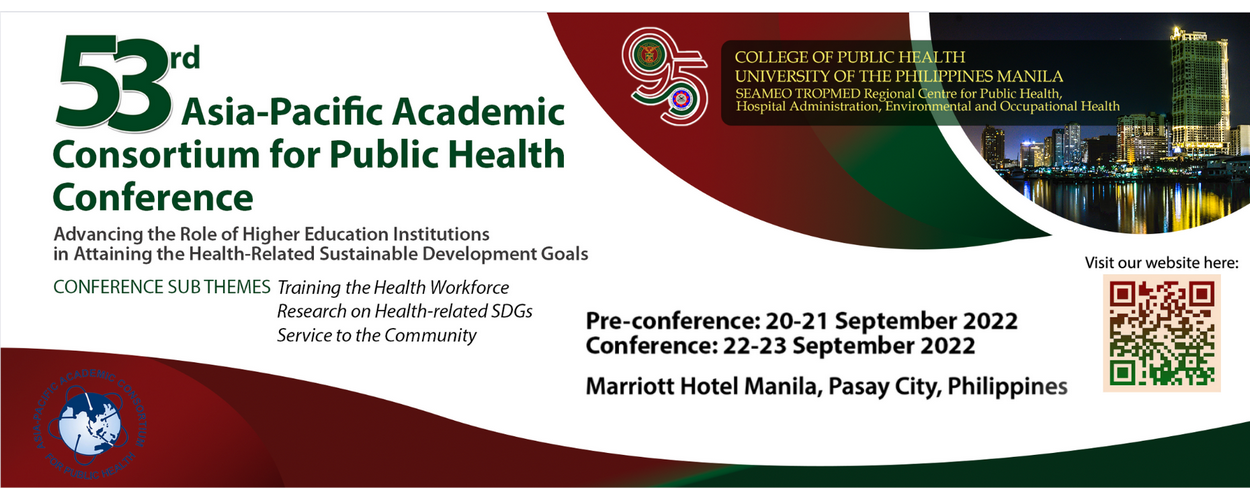 Event Details
Advancing the Role of Higher Education Institutions in Attaining the Health-Related Sustainable Development Goals​
BACKGROUND
Higher education institutions (HEIs) play an important part towards the attainment of the Sustainable Development Goals (SDGs). The activities that HEIs actively contribute include: conduct of translational researches influencing health policy and monitoring; shaping the educational landscape; and providing knowledge and skills development to inspire solutions to the unique social, environmental, economic and health challenges of our time.
HEIs are not only limited to its relevance in teaching and research, but are also important key players in mobilizing and fostering networks and partnerships between various agencies, from government and policymaking bodies, non-government and social organizations, industries, think tanks and entrepreneurs both at the local and international level.
OBJECTIVE
The 53rd APAPCH Conference aims to provide an avenue to open up discussions regarding the opportunities and challenges in attaining health-related SDGs, fostering dialogues and discussions, encouraging sharing of information and resources, and promoting collaborative activities among stakeholders to discuss public health concerns and plans and strategies to support the achievement of SDGs for health.
OUTPUT
The main outputs expected of the conference are as follows: a concrete plan of action that can help HEIs to support the achievement of SDGs; fostering networks and collaborations across member institutions both locally and internationally; and information dissemination through a conference proceeding published in a scopus-indexed journal.
Time

20 (Tuesday) 8:00 am - 23 (Friday) 5:00 pm GMT+8
Location

Manila Marriott Hotel