thu07jul9:00 am3:00 pmSEAMEO KM Learning and Sharing Forum9:00 am - 3:00 pm GMT+7 SEAMEO Secretariat Event Organized By: SEAMEO Secretariat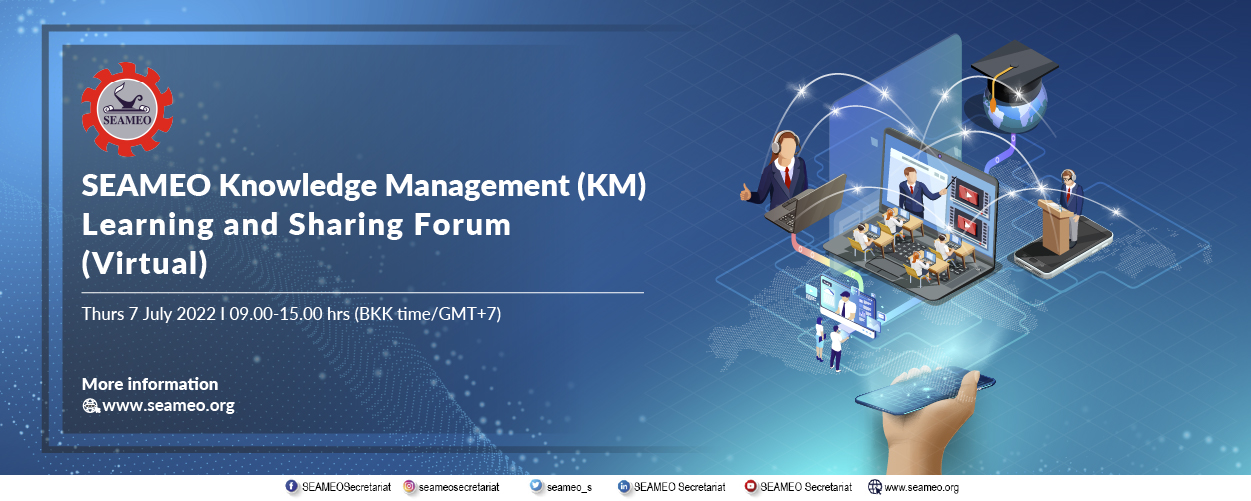 Event Details

The First SEAMEO Training Workshop on Knowledge Management (KM) as a part of the initiatives under the SEAMEO Strategic Plan 2011-2020 was organized by SEAMEO SEARCA in collaboration with SEAMEO Secretariat on 24-26 January 2012 in Los Baños, Philippines.  The workshop aimed to enable SEAMEO Centers to arrive at a common understanding of KM, draw up an appropriate KM framework and strategy, and plan next steps towards making such strategy operational.

Since then, many SEAMEO Regional Centres has actively established a new unit of Knowledge Management or related units which are mainly responsible for information management system, partnership/business development, communication, learning events and etc. Currently, 9 of 26 SEAMEO Units has established the KM unit such as SEAMEO BIOTROP, SEAMEO CECCEP, SEAMEO INNOTECH, SEAMEO RECFON, SEAMEO SEARCA, SEAMEO SPAFA, SEAMEO VOCTECH, and SEAMEO Secretariat.

In response to the new SEAMEO Strategic Plan 2021-2030 in the complex context of human resource development in education, science and culture, and the challenges of COVID-19 pandemic where the global education landscape has been transformed, it is necessary for SEAMEO Regional Centres and SEAMEO Secretariat to revisit the ways we work.

The Knowledge Management Unit or related units such as PR, Partnership, IT at the SEAMEO Centres have played an important role in transforming the conventional meetings to the online events.  E-marketing/ promotional tools and social media become more significant with various strategies to effectively reach out the different targeted participants, stakeholders and partners in Southeast Asian countries and beyond.

The meeting will be organsied as a closed meeting among the SEAMEO Centres.
Time

(Thursday) 9:00 am - 3:00 pm GMT+7