thu28jan10:00 am11:00 amSEAMEO-Partners Lecture Series on Teacher Training Solutions10:00 am - 11:00 am GMT+7 SEAMEO Secretariat YouTube Channel Event Organized By: SEAMEO Secretariat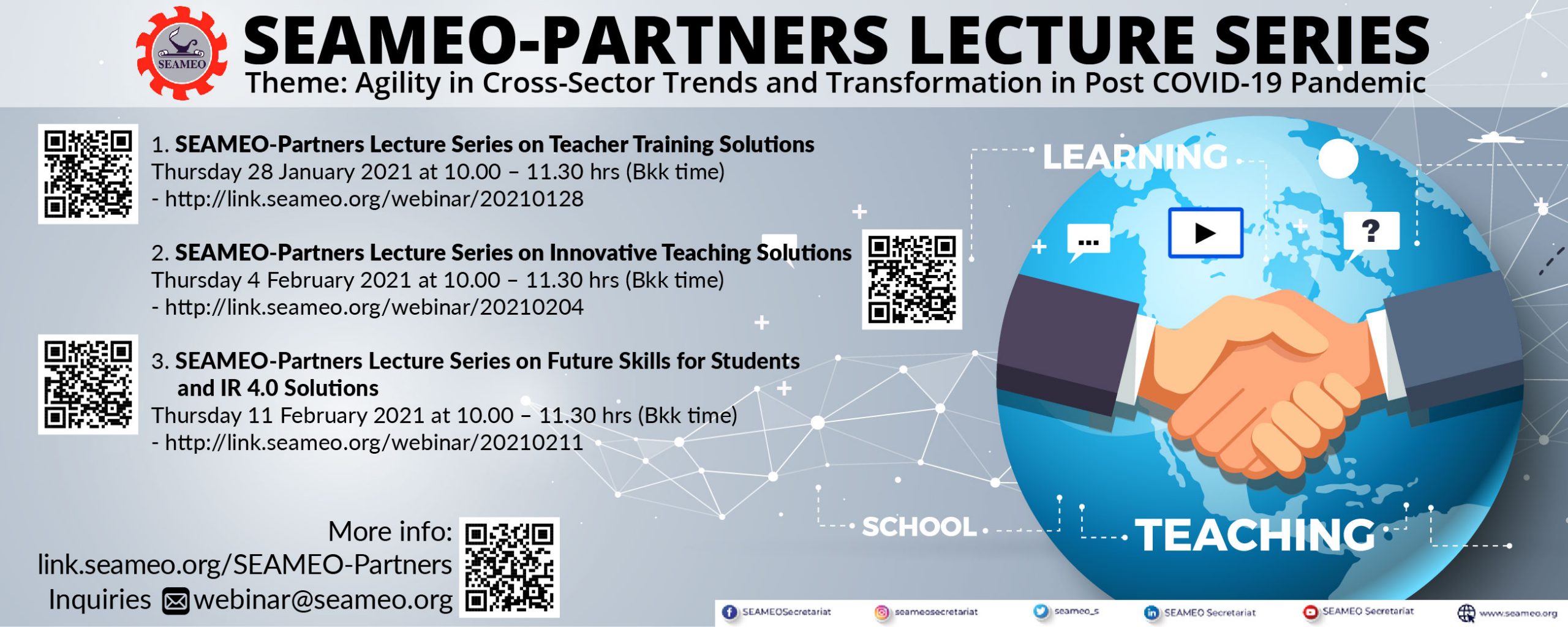 Event Details

COVID-19 has changed the educational landscape globally. In Southeast Asia alone, nearly 1.6 Billion learners are impacted by school closures, and remote learning has been a lifeline for learning. About 247 Million learners are hunkering down and attending online/flexible learning options in varying degrees from their own homes, in compliance with strict social distancing protocols and instructions from the various government to stay home.

With lockdowns, enhanced quarantine measures, and school closures, everyone is affected. Concerns are mounting up on school closures' unintended effects on learning.  Questions such as access to, quality, and effectiveness of non-traditional modes including distance education, alternative learning modalities, flexible learning options, homeschooling, and blended learning emerged. Doubts on the effectiveness of online assessments, the acquisition of necessary competencies of learners and the readiness of teachers to transition to online learning and parents to home-based learning, proved to be challenging in the COVID-19 world.

To learn the newest technological solutions and innovative strategies for improving teacher capacity, teaching pedagogies, and student learning process as well as developing future skills for students and teachers during the lockdown, the SEAMEO Secretariat collaborates with the globally educational partners who are governmental/development agencies and private enterprises in organising the SEAMEO-Partners Lecture Series during January-February 2021.

The SEAMEO-Partners Lecture Series addresses the need to have a platform where key players from industry and education stakeholders can discuss and share initiatives and efforts to address education disruptions during the pandemic in Southeast Asia and beyond.
Time

(Thursday) 10:00 am - 11:00 am GMT+7