fri03junAll Daymon06SEAMEO-University of Tsukuba Teacher e-Training Series(All Day) GMT+7 SEAMEO Secretariat YouTube Channel Event Organized By: SEAMEO Secretariat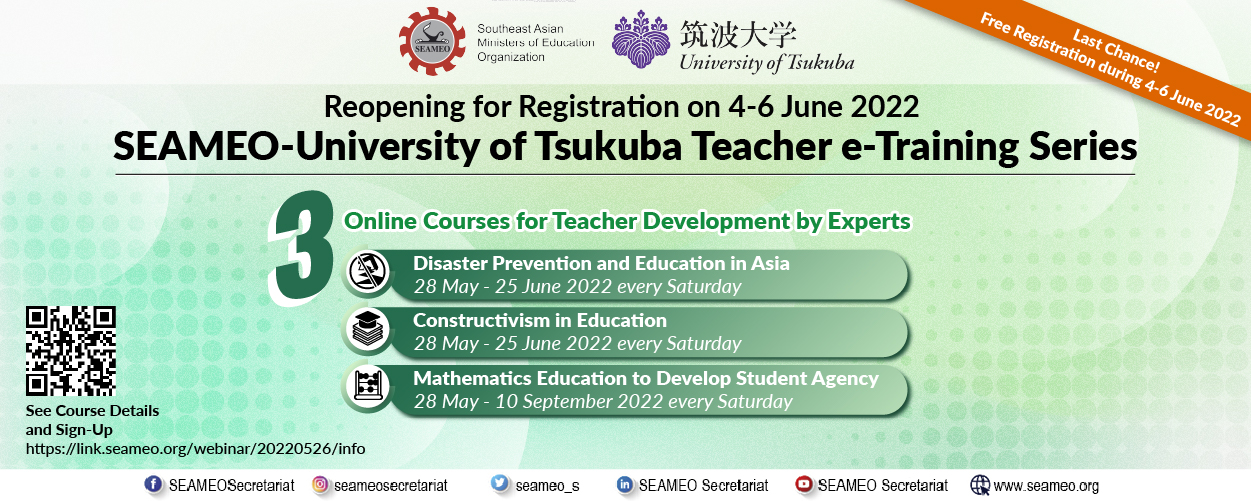 Event Details

The University of Tsukuba (UT), Japan is one of the SEAMEO Affiliate Members since 2009.   Since its inception, the University of Tsukuba of Japan has been one of the most active SEAMEO Affiliated Members which has developed various teacher development programmes, particularly in Science, Mathematics and Teacher Education, as well as professional and student exchange programmes through the partnership with the SEAMEO Regional Centres and SEAMEO Secretariat.

In the occasion of the 20th anniversary of the Center for Research on International Cooperation in Educational Development (CRICED) of the University of Tsukuba,  CRICED in collaboration with the SEAMEO Secretariat will launch the SEAMEO-Universities of Tsukuba Teacher e-Training Series which are open for free for teachers and educators in Southeast Asia and beyond to learn from the distinguished professors and experts from Japan, South Korea, Taiwan, Singapore, Chile, Mexico and Southeast Asia.

The registration is open from 4 to 6 June 2022.
Time

june 3 (Friday) - 6 (Monday) GMT+7