tue16nov(nov 16)8:00 amthu18(nov 18)5:00 pmThe International Conference on Science Education and Teacher Professional Development 20218:00 am - 5:00 pm (18) GMT+7 QITEP in Science YouTube Channel Event Organized By: QITEP in Science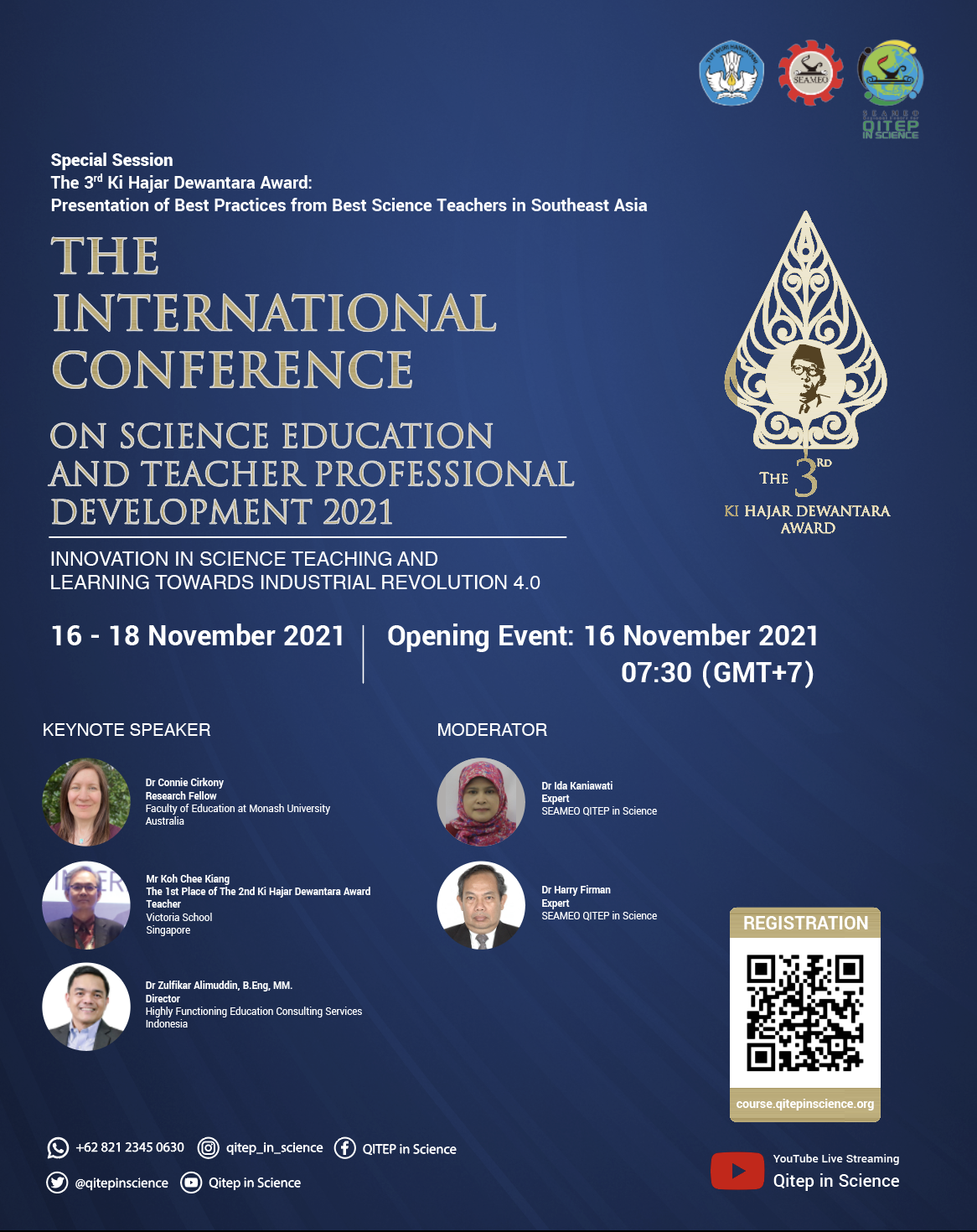 Event Details

The International Conference on Science Education and Teacher Professional Development is a biennially event of SEAMEO QITEP in Science (SEAQIS), where teachers, academics, researchers and education observers gather to inform, discuss, exchange and disseminate their best practices in facilitating the learning process. The conference will be conducted from 16 to 18 November 2021 in blended mode; online and face-to-face mode.

During the conference, SEAQIS will conduct the 3rd Ki Hajar Dewantara Award. Ki Hajar Dewantara (KHD) Award is an idea and initiative by SEAMEO QITEP in Science to honour and appreciate the science teachers who have dedicated their lives and effort to bring the teaching and learning process up to an excellent level. This concept derives from the inspiration of the founding father of National Education, the late Ki Hajar Dewantara for his unceasing commitment to make education a contribution towards human liberation.

The purposes of this conference are:

1. to forum for teachers to disseminate their best practices and their research experience;
2. to foster cooperation and close relationships among SEAMEO Member Countries by means of better science education and a greater awareness of the place of science in society;
3. to commemorate the services of Ki Hajar Dewantara in forming national education system in both philosophy and practices;
4. to develop, advocate and reward excellence in science learning and teaching practices that contributes to the students' learning experience and outcomes; and
5. to reinforce the concept of the teaching profession and science education development as a driving force in the regional progress leading collectively to prosperity and peace to the ASEAN Economic Community.
Time

16 (Tuesday) 8:00 am - 18 (Thursday) 5:00 pm GMT+7
Organizer
QITEP in Sciencesecretariat@qitepinscience.org Jalan Diponegoro No. 12, Bandung, West Java, 40115, Indonesia