wed22jun9:00 am12:00 pmThe Making of Teacher-Experts in the New Normal: Deepening the Understanding of Pedagogical Approaches9:00 am - 12:00 pm GMT+8 SEAMEO INNOTECH Facebook Page Event Organized By: SEAMEO INNOTECH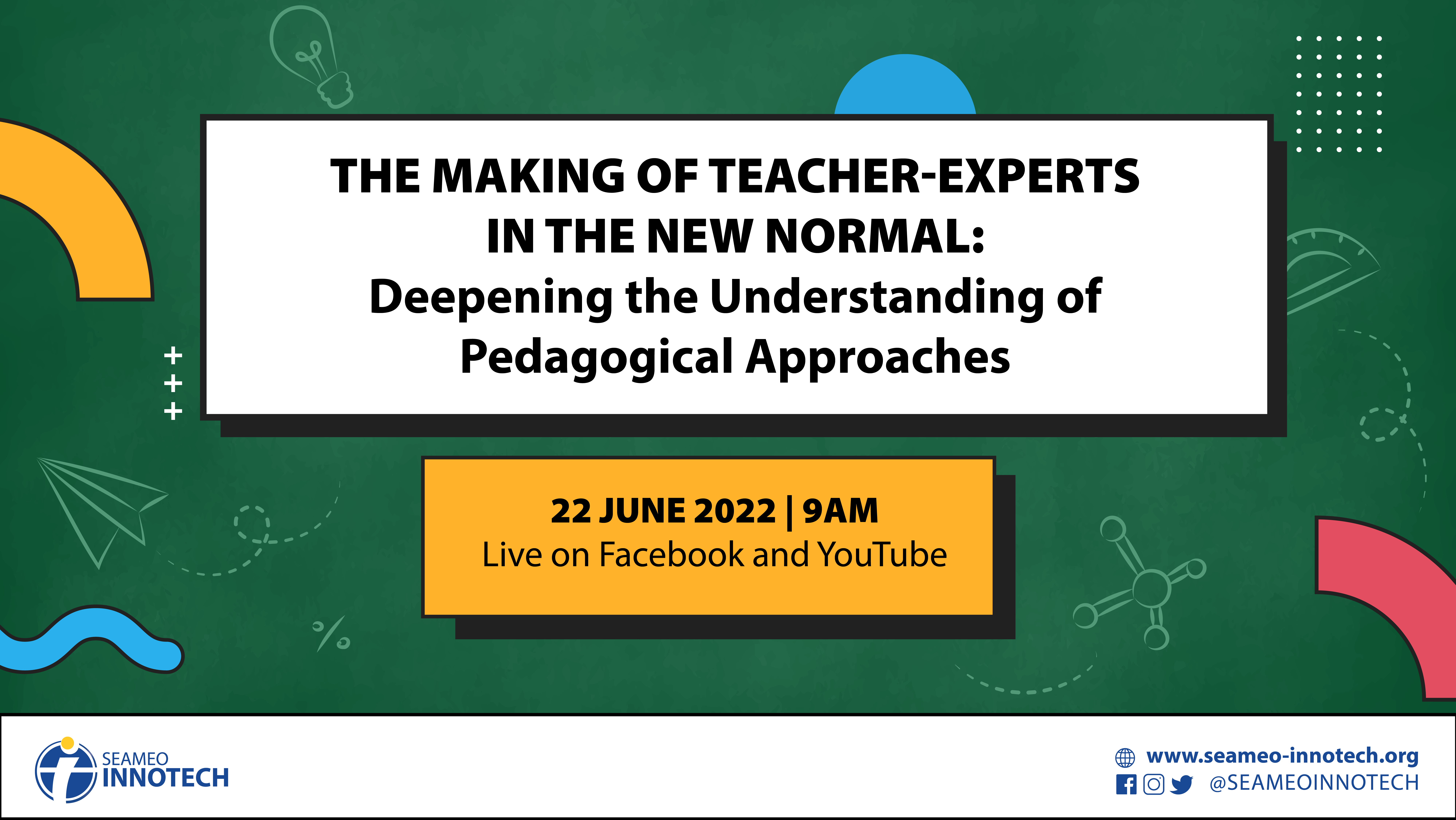 Event Details

RA 10533, also known as the "Enhanced Basic Education Act of 2013," states that curriculum should be taught using constructivist, inquiry-based, reflective, collaborative and integrative pedagogical approaches. But how does a teacher apply these approaches in the new learning environment brought by the pandemic?

Let's discuss how these pedagogical approaches are implemented in the new normal of Philippine public schools. Join us for the "The Making of Teacher-Experts in the New Normal: Deepening the Understanding of Pedagogical Approaches." Watch it live on 22 June 2022, 9 AM – 12 NN, on our Facebook page and YouTube Channel.

Set your reminder on Facebook: https://fb.me/e/2xIO8Kt6d
Set your reminder on YouTube: https://youtu.be/YQStCmy8Ieg

===
This event is organized by the Department of Education and SEAMEO INNOTECH as part of a research study on pedagogical approaches. The research study aims to provide DepEd with empirical data on the extent on how each pedagogical approach is implemented to improve the teaching-learning process in the new normal. This basically forms the main research question. The study will use a mixed methodology where a survey and case studies will be conducted across the country. The study intends to produce a research report, policy notes and research brief to support DepEd in developing or improving programs and policies on pedagogical approaches.

This webinar-workshop is a part of the research study, convening experts from the academe and teacher-experts to gather, discuss and consolidate insights and experiences on the implementation of the R-2I-2C (reflective, inquiry-based, integrative, collaborative and constructivist) pedagogical approaches.
Time

(Wednesday) 9:00 am - 12:00 pm GMT+8