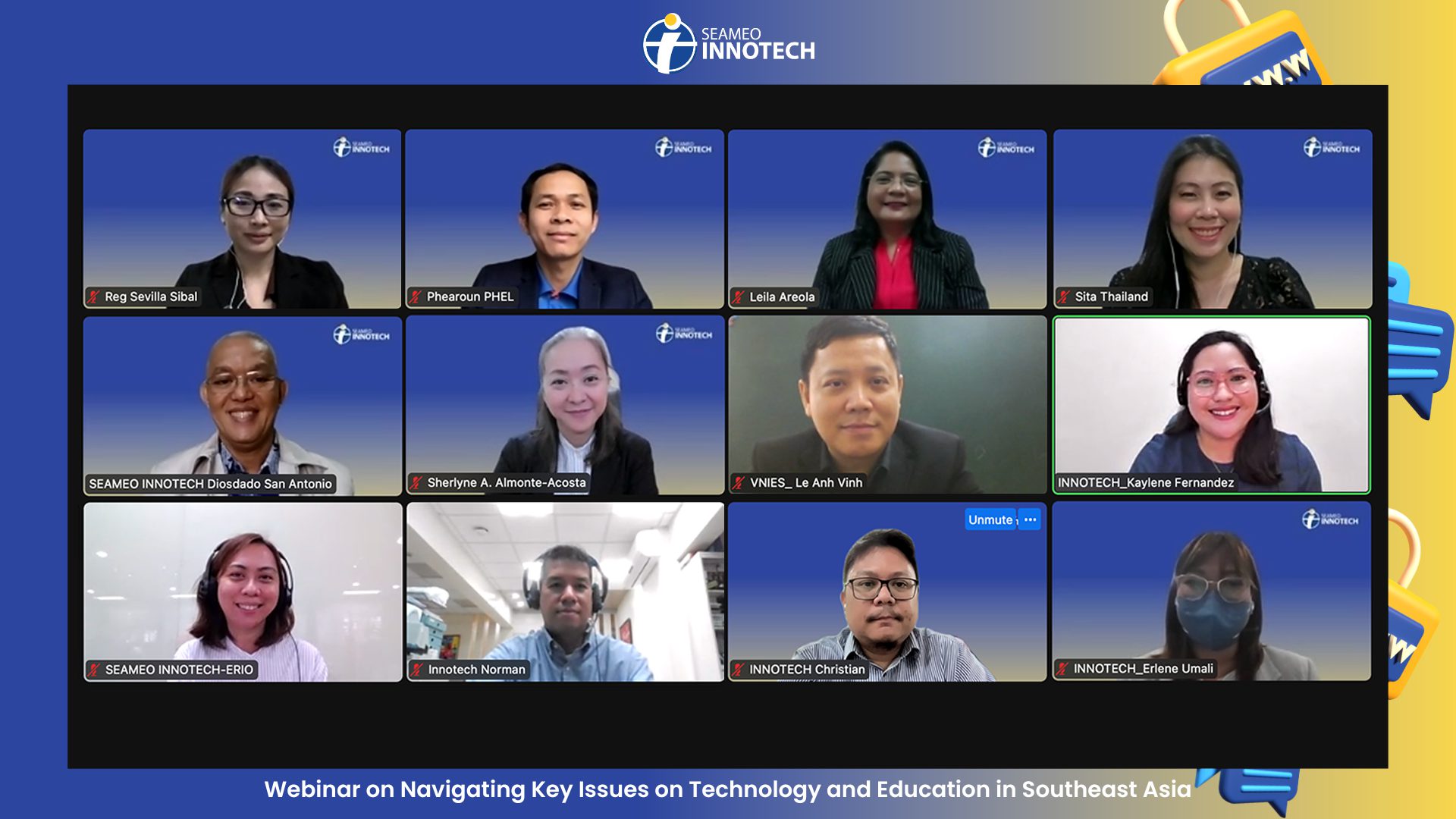 Four SEA country representatives share key issues on technology and education
SEAMEO INNOTECH, through its Educational Research and Innovation Office and Knowledge Management and Networking Office, conducted a webinar last 6 February 2023 to discuss the different contexts and situations of Southeast Asian (SEA) countries in using technology in education. The webinar is part of the activities in preparing a thematic background paper for UNESCO's Global Education Monitoring (GEM) Report 2023.
For the past few years, technology has influenced the teaching and learning process. It helped teachers in developing instructional materials, and keeping their learners more engaged and motivated. However, there are still issues and challenges experienced by the Ministries of Education, especially in dealing with the different contexts of countries and communities.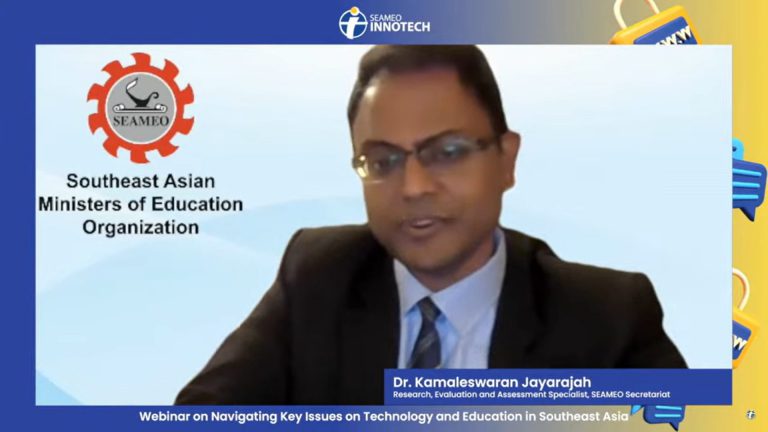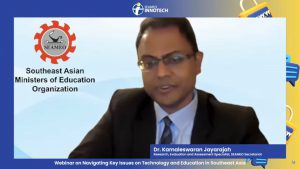 "Education technology generates passionate debate as technology is evolving fast. Those who lead technological developments are always a step ahead. Uncertainty over the direction of technology fuels anxiety that most people will be left behind," said Dr. Kamaleswaran Jayarajah, Research, Evaluation and Assessment Specialist of SEAMEO Secretariat, during his opening message.
Representatives from Cambodia, Philippines, Thailand, and Vietnam served as resource speakers during the webinar on "Navigating Key Issues on Technology and Education in Southeast Asia." They shared the status and experiences of their country in terms of the use of technology in education, especially now that schools are transitioning back to face-to-face classes. They also talked about their country's programs and policies related to the use of digital technologies in education, as well as the challenges they have experienced, and actions taken by the Ministries of Education to address these challenges.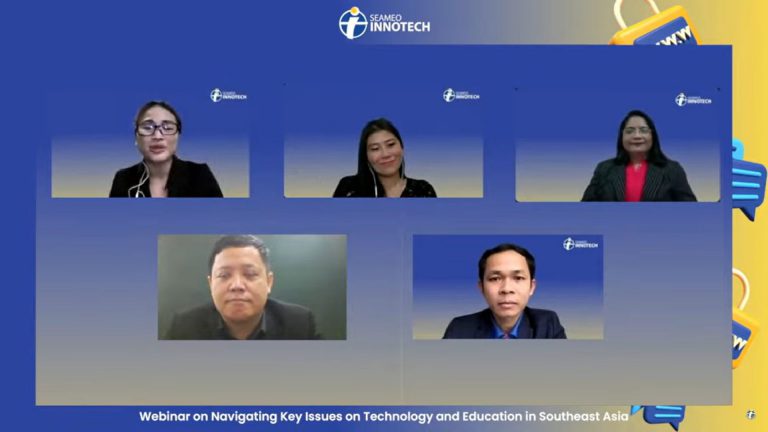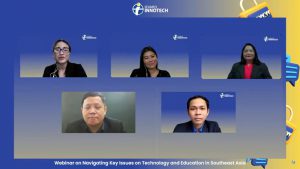 Cambodia
Cambodia was represented by Mr. Phel Phearoun, Deputy Director of the Department of Information Technology (IT) in the Ministry of Education, Youth and Sports. He highlighted that the Information and Communications Technology (ICT) policies and programs of the government are inter-ministerial. In addition, he further stressed that the government is determined to deliver and maximize the  utilization of ICT in different sectors especially on how it is implemented in the education sector. Lastly, he mentioned that their biggest challenges are the lack of digital devices, poor internet connection, and the need for more pre-service and in-service teacher training.
Philippines
Dr. Leila P. Areola, Director of the Bureau of Learning Delivery of the Department of Education (DepEd), represented the Philippines in the webinar. She highlighted the different online portals, like the National Education Portal, Learning Resource Portal, and DepEd Commons, which were developed to help schools, teachers, and learners transition in the blended learning modality during the pandemic. These platforms will be used continuously even now as they have returned to in-person classes. Some of the challenges she highlighted were the digital divide in terms of access and know-how among learners and teachers, funding to provide infrastructure and facilities, inadequate training for teachers, data security concerns, and standardization of monitoring and evaluation. Capping off her presentation, she shared about the new Basic Education Development Plan of the country, or the MATATAG Agenda which highlights the country's commitment to improving the access and quality of education for Filipino learners.
Thailand
Thailand was represented by Dr. Sita Yiemkuntitavorn, Associate Professor from the School of Educational Studies of Sukhothai Thammathirat Open University. Her presentation revolved around the implementation of the programs in support of achieving their Goal 2037 which is "to become a developed country with security, prosperity, and sustainability, in accordance with the Sufficiency Economy Philosophy." Related to this goal, they put in place a 20-year Thailand Digital Landscape plan to integrate ICT in all sectors. In education, this means providing devices in schools; enhancing the digital competencies of school heads, teachers, and learners; incorporating ICT in curriculum and instruction; and proper monitoring and evaluation of ICT programs. Some of the challenges they experienced revolve around providing access to ICT tools and infrastructure, as well as the inadequate competencies of teachers in incorporating ICT in the classroom and school management.
Vietnam
Dr. Le Anh Vinh, Director General of The Vietnam Institute of Educational Sciences, shared how Vietnam works towards achieving the Sustainable Development Goal 4 (SDG 4), or inclusive quality education, through the integration of digital technologies in education. For Vietnam, integrating digital technologies in education means providing lifelong opportunities for learners, providing personalized learning paths, and equipping learners with 21st century skills. Some of their biggest challenges in ICT-related programs are on enhancing the digital competencies of teachers, school heads, and learners,  providing access to ICT tools and equipment, and utilizing available data  for a more efficient monitoring and evaluation system.
While all countries have their own policies and programs to integrate technology in education, it is apparent that there are still challenges that revolve around relevant and sustainable policies and programs, access to digital resources and ICT tools, capacity building of teachers and school heads, and monitoring and evaluation mechanisms. These are the aspects that INNOTECH aims to look into in developing the thematic background paper for the GEM Report 2023.
The GEM Report is UNESCO's annual publication that discusses the wins, challenges, and recommendations in achieving SDG 4. It is based on multiple sources of data and is co-developed with different partner agencies and organizations. For the Southeast Asian version of the report, INNOTECH supported the SEAMEO Secretariat in developing the chapter on key issues on Technology and Education.
Re-watch the webinar here: