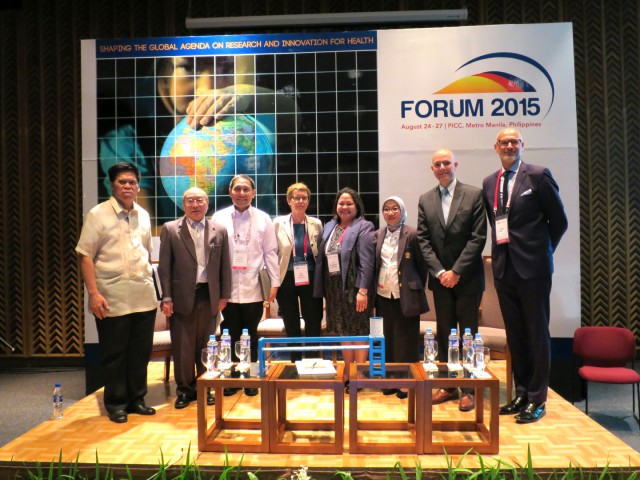 GIZ and SEAMEO INNOTECH presented Fit for School program at the Global Forum on Research and Innovation for Health 2015
The Deutsche Gesellschaft für Internationale Zusammenarbeit (GIZ) and SEAMEO INNOTECH participated in the Global Forum on Research and Innovation for Health 2015 held on 24-27 August 2015, in Manila, Philippines to present the Regional Fit for School Program.
This forum discussed the importance of research and innovation in addressing global health challenges. Participants, consisting of representatives from government institutions, universities, international development organizations, and private companies from all over the world, underscored the importance of inter-sectoral partnerships. Bringing together health, education, and other sectors and linking research, policy, and practice were emphasized at the forum.
H.E. Mr. Lytou Bouapao, Vice Minister of Education and Sports of Lao PDR, led the presentation of the Regional Fit for School program during the panel session on capacity development for research. He emphasized that education and health go hand in hand and that the quality of education suffers if children are not healthy.
The Fit for School program, jointly conducted by GIZ and SEAMEO INNOTECH, originated in the Philippines and is currently being implemented in Cambodia, Indonesia, and Lao PDR. The program aims to develop schools as healthy learning environments for children. Healthy children can learn better, attend school more often, and grow up to be a more productive citizen. The program consists of a package of interventions, such as improving access to washing facilities in schools and institutionalizing evidence-based recommended hygiene practices –including daily supervised handwashing and tooth brushing, as well as bi-annual school-based deworming.
To know more about the program, watch the video of Fit for School below.