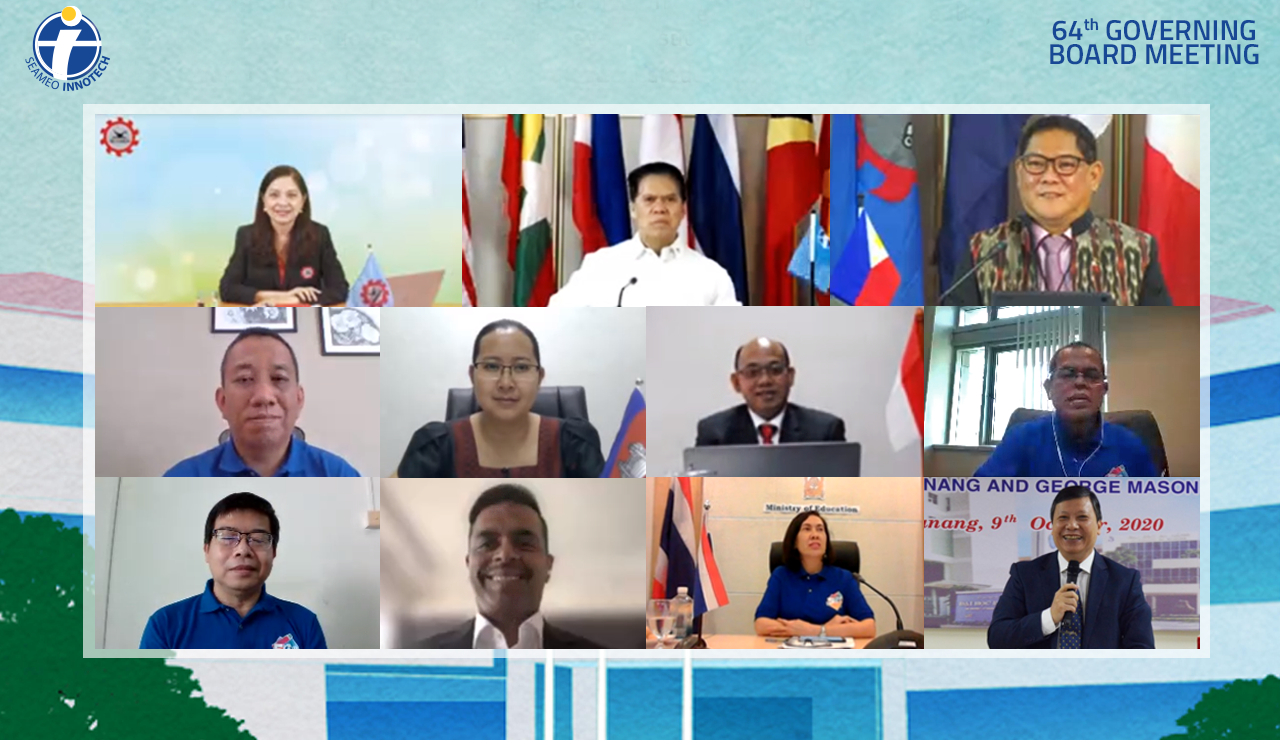 Governing Board approves five-year plan of INNOTECH
The SEAMEO INNOTECH Governing Board approved the proposed 10th Five-Year Development Plan (FYDP) of the Center and endorsed it for the approval of the SEAMEO High Officials and the Council of Ministers. The approval was done during the 64th Governing Board Meeting held on 27 to 28 October 2020. The 10th FYDP will guide the Center's programs and services for SEAMEO INNOTECH Fiscal Year starting 2021 up to 2026.
Despite the limitations imposed by the COVID-19 pandemic, INNOTECH remained responsive to the situation and proceeded with this year's Meeting while ensuring the health and safety of the delegates. The Center's Governing Board, which comprises of senior representatives of the SEAMEO Member Ministries of Education, convened virtually for a two-day online meeting, along with the SEAMEO Secretariat Director and INNOTECH officers and staff members. Advisers, consultants, and observers were also invited in the said meeting. Governing Board Meetings are essential to the operations of each SEAMEO Center as it enables the Center to engage the Ministries of Education in Southeast Asia, through its Governing Board Members, on its accomplishments and proposals. It is an opportunity for the Center to review its accomplishments for the past fiscal year and to discuss its future directions.
Among the highlights of the two-day virtual meeting is the presentation of INNOTECH Center Director, Dr. Ramon C. Bacani, of the Center's plans for the next five years. The plan focused on fulfilling the Center vision of ensuring a better future for every learner in the region, while contributing to the attainment of the UN Sustainable Development Goals and the SEAMEO Strategic Plan 2021-2030. Under the plan, the Center will implement programs to strengthen teacher and school head preparation for the future of learning, support learners' life skills and their empowerment, enhance the quality and learning outcomes, and manage the learning space of the future. Upcoming learning programs, research projects, and knowledge management initiatives were also showcased.
In his presentation, Dr. Bacani further underscored that through the 10th FYDP, the Center continues its pledge of helping every Southeast Asian learner navigate through disruptions and transformations, moving forward to a better future.
The Board approved the 10th FYDP with some suggestions on other possible focus areas and collaboration opportunities. With the approval of the Board, the Center's 10th FYDP will be endorsed for the approval of the SEAMEO High Officials and the SEAMEO Council of Ministers.
The Center's accomplishments for the past year was also presented to the Meeting through a video. The Center proudly showcased its programs that proceeded despite the constraints set by the pandemic situation. It also underlined the Center's contribution to the education sector as a response during the pandemic. Among these are the free online courses offered to teachers and school heads and the technical assistance provided to the Philippine Department of Education in crafting its Basic Education Learning Continuity Plan