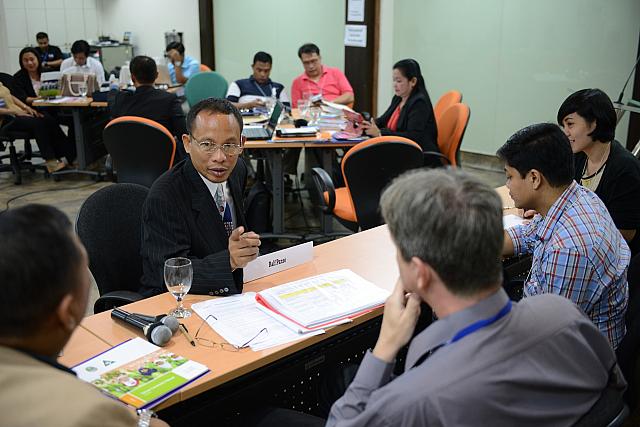 HEALTHeXCELS and LEADeXCELS conclude online courses
A batch of HEALTHeXCELS and LEADeXCELS participants has concluded their 9-week courses. On 17-18 November 2014, 13 school heads from around the Philippines attended the program's closing activities which include school visits, revalida, and graduation.
On 17 November 2014, the online courses' participants visited two schools—Mines Elementary School and Batasan Hills National High School—to observe the schools' practices on health and resilience. This was then incorporated in the revalida the next day. For their final requirement, participants shared their insights on the programs of the schools they visited, relating to them the situation in their own schools.
"The drive to manage health initiatives was very concrete. As a school head, you don't need to be ambitious and you just need to inspire the kids to keep going on." Mr. Loiue Pebres, HEALTHeXCELS graduate, shared his insights on the school visits.
The participants also shared their learning and experiences in the courses as part of the course evaluation. They said that participating in this course was a great opportunity to learn and that they were motivated and inspired to do more for their schools.
"We were given the freedom to express and motivate ourselves after hearing the experiences and best practices of schools. We were honored because these experiences gave us a lot of opportunities," shared Mr. Gilbert Inocencio, HEALTHeXCELS graduate.
"Best thing about the modules, after reading, I was able to apply them in our school. I was able to create a committee in our school handling DRRM," said Mr. Art Tingson, LEADeXCELS graduate.
This is the first time that two courses have simultaneous revalida and graduation. This is also the first time to have prior school visits with full support from the partner organization, Gesellschaft für Internationale Zusammenarbeit (GIZ).
HEALTHeXCELS is an online flexible learning course designed to strengthen Southeast Asian school heads' capacity to manage effective school health programs. It has of two self-instructional learning modules: 1) Champion Health Management in School and 2) Manage School Health Programs.
LEADeXCELS, on the other hand, is a course for Southeast Asian school heads to have basic knowledge and skills necessary to successfully lead their schools to be more resilient and prepared to face disasters. Its of two modules are: 1) Lead in Building a More Resilient School and 2) Manage Continuing Learning.