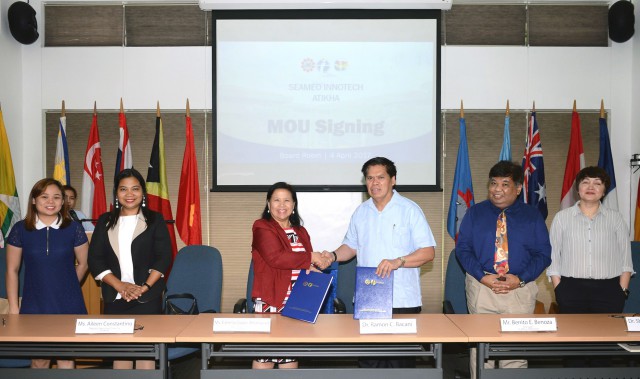 INNOTECH and ATIKHA signs MOU
On 4 April 2017, SEAMEO INNOTECH and Atikha Overseas Workers and Communities Initiatives, Inc. (ATIKHA) signed a Memorandum of Understanding (MOU) to facilitate cooperation and collaboration between the two organizations, particularly for ATIKHA's Learning Management System.
Major scope of the said partnership is engaging INNOTECH's expertise in scaling up the delivery of ATIKHA's existing programs, one of which is their Family Income Management Training. With the program's e-Learning modality, a number of Overseas Filipino Workers (OFWs) and their families will be given the opportunity to participate in seamless online courses aimed to support their learning needs. A Technical Working Group will be formed and is set to discuss details of the partnership on the early week of July 2017.
The MOU was signed by SEAMEO INNOTECH Director, Dr. Ramon C. Bacani, and ATIKHA Executive Director, Ms. Estrella Dizon-Añonuevo. Also present in the signing were Dr. Sharon Joy B. Chao, Manager of the Learning Management Office of SEAMEO INNOTECH, and Ms. Aileen Constantino, Deputy Executive Director of ATIKHA, who both signed as witnesses.
Atikha Overseas Workers and Communities Initiatives, Inc. (ATIKHA) is a non-stock, non-profit organization which aims to address the social cost of migration and harness the potential of the resources of the OFWs for the development of their families and communities.