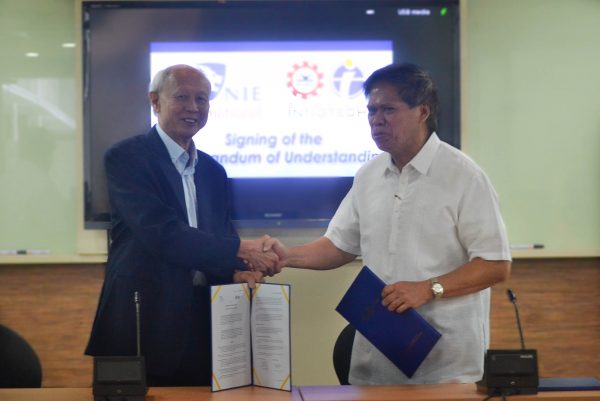 20 Dec

INNOTECH and NIE International Singapore signs MOU

Dr. Paul Teng, Managing Director of National Institute of Education (NIE) International, visited the Philippines to formally sign a Memorandum of Understanding (MOU) with SEAMEO INNOTECH, 9 November 2018. Dr. Ramon C. Bacani, Center Director of SEAMEO INNOTECH, signed the said memorandum together with Dr. Paul Teng.


NIE International, the official training arm of the National Institute of Education Singapore, will work on collaborative projects with SEAMEO INNOTECH to advance the two institution's research, training, and knowledge management services. The two institutions will also strengthen their cooperation through sharing of resources and expertise on teacher training, school management, and educational leadership programs to name a few. 


Making the most out of his brief visit to the Center, Dr. Teng gave a presentation to highlight the role of NIE International in the development of Singapore's education landscape, particularly in teacher preparation and continuous professional development. As NIE International is also focused on advancing technology in education, he further emphasized its important contribution in education. He said that technology will democratize learning and will simplify knowledge sharing; technology will be an enabler especially for the younger generations as long as it is used correctly and its limitations are understood.


Mr. Benito E. Benoza, Manager of Knowledge Management and Networking Office of SEAMEO INNOTECH, pointed out that learning from the experiences of NIE International is very valuable for the Center, especially now that INNOTECH is nearing its 50th anniversary and is currently developing its 10th Five-year Development Plan.


SEAMEO INNOTECH continues to establish partnership with organizations and institutions to help the Center reach more stakeholder and provide a better future for every learner in the region.