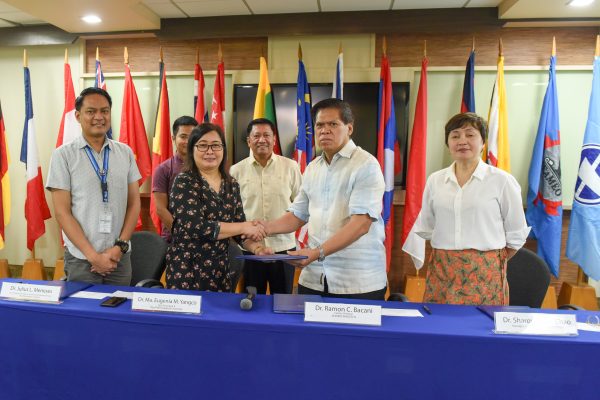 INNOTECH and Rizal Technological University seal partnership
SEAMEO INNOTECH and Rizal Technological University (RTU) sealed their partnership through a Memorandum of Understanding (MOU) signed on 9 May 2019. The MOU was signed by Dr. Ramon C. Bacani, Director of SEAMEO INNOTECH, and Dr. Ma. Eugenia M. Yangco, SUC President II of RTU. Signing as witnesses were Dr. Sharon Joy B. Chao, Manager of INNOTECH's Learning Management Office, and Dr. Julius L. Meneses, RTU's Vice President for Programs, Research and Extension. Also present in the signing ceremony were staff from the Learning Management Office of SEAMEO INNOTECH as well as officials and staff from RTU.
Establishing a partnership through a MOU allows the two institutions to collaborate on programs and projects that interest both parties. This also formalizes the sharing of expertise, best practices, and knowledge in the field of educational leadership, innovation, and technology.
To kick-off the collaboration of INNOTECH and RTU, a scoping workshop was held after the signing of the MOU to discuss possible projects. Four collaboration projects have been suggested during the workshop: a capacity building program for RTU faculty and staff; a Joint Graduate Diploma program; a training program on learning management system; and a collaboration on a research project. The two institutions agreed to prioritize the capacity building program for the RTU faculty and staff among the four. Initial consultation meetings are planned to happen in the succeeding months.
Rizal Technological University is a state university focusing in the fields of engineering and technology, education, and business and entrepreneurial technology.