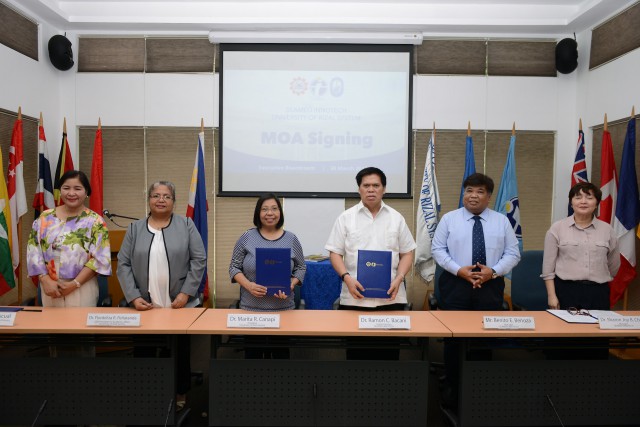 INNOTECH and URS seal agreement for credit units
On 30 March 2017, SEAMEO INNOTECH sealed its partnership with the University of Rizal System (URS) for the implementation of eXCELS (Excellence in School Leadership for Southeast Asia) and GURO21 (Gearing Up Responsible and Outstanding Teachers in Southeast Asia for the 21st Century) flexible learning courses.
Through the partnership with URS, completers of the flexible courses will be granted 6 to 9 academic units in as soon as they enroll and be accepted in the graduate and post graduate programs of the University.
As part of the agreement, selected URS faculty and experts will also be engaged by INNOTECH as Flexible Learning Tutors (FLT) or resource persons.
The Memorandum of Agreement between SEAMEO INNOTECH and URS is signed by Dr. Marita R. Canapi, URS President, and Dr. Ramon C. Bacani, SEAMEO INNOTECH Director. Also present in the event who signed as witnesses were Dr. Flordeliza R. Peñaranda, URS Vice President for Academic Affairs, Dr. Nancy T. Pascual, URS Vice President for Administration and Finance, Dr. Sharon Joy B. Chao, SEAMEO INNOTECH Learning Management Office Manager, and Mr. Benito E. Benoza, SEAMEO INNOTECH Knowledge Management and Networking Office Manager.