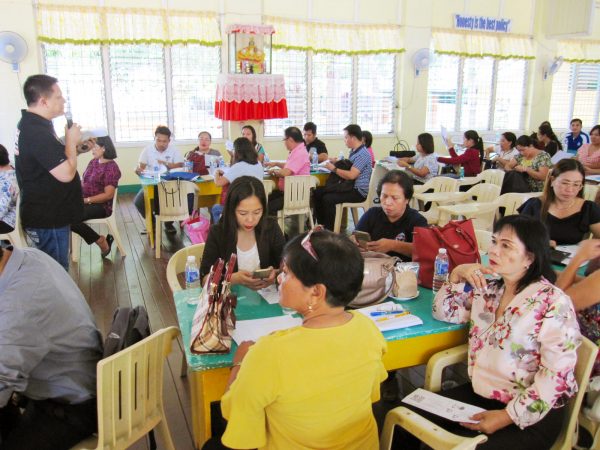 INNOTECH conducts series of flexible courses orientation in Region VII and VIII
From 2 to 4 August 2018, SEAMEO INNOTECH conducted a series of orientation for its flexible courses namely GURO21, TEACHeXCELS, and SUPEReXCELS in Regions VII and VIII. In coordination with the Division of Naga and from Leyte Normal University, more than a hundred Classroom Teachers, School Heads, and District Supervisors were introduced to the three flagship courses of the Center.

Gearing Up Responsible and Outstanding Teachers in Southeast Asia for the 21st Century, or GURO21, is a menu of flexible learning courses targeted for school teachers. This aims to address the teachers' needs in relation to the changing educational landscape of the 21st century. GURO21 Course 1 primarily focuses on enhancing the teachers' knowledge, skills, attitude, and values on teaching and learning. A total of 77 classroom teachers from Region VII and VIII were oriented during the said period. 

Teaching and Learning Excellence in School Leadership for Southeast Asia, or TEACHeXCELS, is a flexible learning course offered to School Heads. This course aims to address and strengthen the capacities of school leaders in managing the instruction and the learning process in their respective schools. The course also aims to equip the School Heads with the fundamentals of being an instructional leader in their school and in facilitating the use of multiple intelligences and higher order thinking skills (HOTS) to enhance learning and student outcomes. A total of 72 School Heads were oriented on the course for both Regions.

Supervision Excellence in School Leadership for Southeast Asia, or SUPEReXCELS, is a course offered to School Heads and District Supervisors. This addresses the need to develop and strengthen their competencies for developmental, differentiated and clinical supervision. 18 School Heads from Region VIII and 10 District Supervisors from Region VII attended the course orientation.

These 3 courses are all managed online through the Center's Learning Management System called iFlex. The participants are expected to undergo 10 weeks of flexible learning.