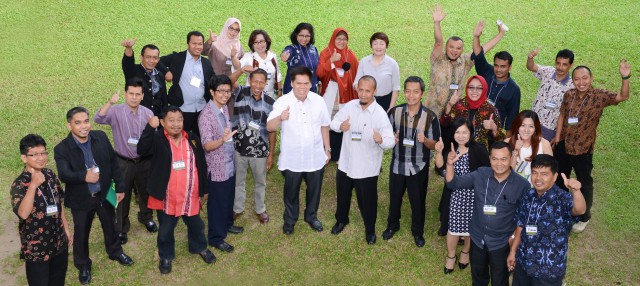 INNOTECH conducts short course for MOEC Indonesia
Twenty-one (21) officials and staff of the Ministry of Education and Culture (MOEC) of Indonesia came to the Philippines for a customized short course on 14-18 November 2016. The 5-day short course tackled technology-based learning management on early childhood education and community education.
Participants were introduced to the Philippine Early Childhood Care and Development (ECCD) Framework, Digital Citizenship, Privacy and Cybercrime, and e-Citizenship. INNOTECH staff also had the chance to introduce technology-based programs and projects of the Center, such as Mobile Technology for Teachers (MT4T), Weaving Identities, instructional materials development, and management of flexible learning courses.
The participants were also exposed to other practices of technology-based learning through a school visit to AMA University.
At the end of the short course, participants were able to develop their own action plan, where they were able to contextualize the topics discussed to their country's situation.
SEAMEO INNOTECH developed the said short course upon the request of the Directorate General for Early Childhood Education and Community Education, MOEC Indonesia.