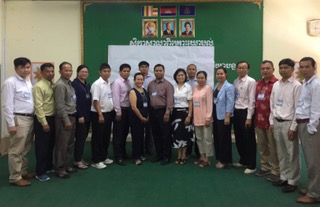 INNOTECH conducts Training of Trainers for NIE Cambodia
SEAMEO INNOTECH continues to strengthen its partnership with the Ministry of Education, Youth and Sports (MoEYS) of Cambodia by conducting a Training of Trainers (ToT) for the National Institute of Education (NIE). Seventeen NIE faculties successfully completed the training program held from 7 to 11 January 2019 in Kampong Cham and Phnom Penh, Cambodia. 
(Related article: INNOTECH trains potential school leaders in Cambodia) 
The 5-day program aims to strengthen the NIE faculties' competencies in conducting in-service training for school leaders and managers in Cambodia. Aside from enriching their facilitating skills, the participants also had the chance to deepen their knowledge and understanding of the core contents and competencies of school leadership programs. The participants were able to analyse the current and emerging education context in their country, as well as how these changes in the education landscape affect the roles and responsibilities of a school leader. 
At the end of the program, the participants developed their own school leadership core curriculum contextualized within the realities and needs of Cambodia, but still  anchored on the Southeast Asian Competency Framework for School Heads. This core curriculum will be transformed into a full-blown training manual that would be used for Cambodia's School Leadership Programs starting May 2019.  
Along with the conduct of the ToT, NIE and INNOTECH also sealed their partnership through a formal Memorandum of Understanding (MOU). The MOU was signed by Dr. Sieng Sovanna, Director of NIE, and Dr. Ramon C. Bacani, Center Director of INNOTECH. Dr. Sovanna is also a graduate of an INNOTECH program called Excellence in Managerial Leadership in 2015.