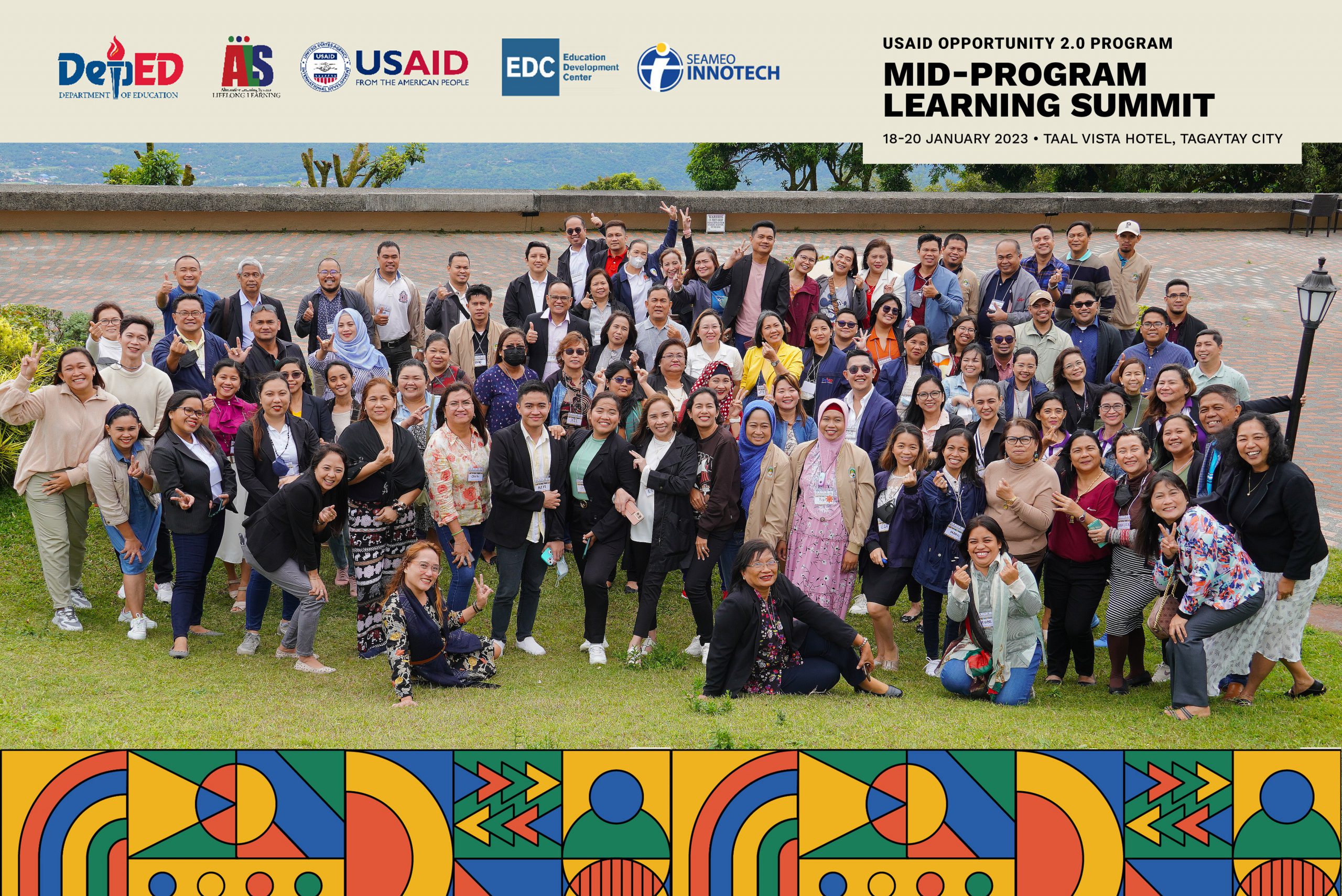 INNOTECH, DepEd ALS, USAID, EDC celebrate wins of Opportunity 2.0 sites
SEAMEO INNOTECH in partnership with the Bureau of Alternative Education (BAE), through the USAID's Opportunity 2.0 Program, organized a Mid-program Learning Summit that supports the delivery of the Alternative Learning System of the Philippine Department of Education (DepEd). The event was held from 18-20 January 2023 in Tagaytay City, Philippines.
Second-Chance Opportunities for Out-of-School Youth, or Opportunity 2.0, is a five-year USAID-funded program designed to provide education, employment, and livelihood opportunities to Filipino out-of-school youths (OSYs). The program which started in 2020 is implemented in 15 cities across the Philippines—Angeles City, Cagayan De Oro City, Cebu City, Cotabato City, Davao City, General Santos City, Iligan City, Iloilo City, Isabela City, Legazpi City, Pasig City, Quezon City, Tagbilaran City, Valenzuela City, and Zamboanga City. Different interventions are done in close collaboration with DepEd, Technical Education Skills and Development Authority (TESDA), local government units (LGU), private businesses, academe, non-government organizations (NGOs), and the youth themselves.
Opportunity 2.0 works with DepEd-BAE on developing and improving materials for ALS learners, improving teacher professional development, improving operations for flexible teaching and learning, enhancing ALS assessment, and encouraging ALS enrollment. This Mid-program Learning Summit is a celebration of the good practices of different ALS programs implemented in support of the ALS 2.0 Roadmap.
"Summits are usually fun and glorious; our best practices are here…but I do hope that we do not stay at the summit. Because there is work in the valleys," ASec. G.H. S. Ambat, Assistant Secretary for Curriculum and Teaching, Education Assessment, and Alternative Learning System, of the Department of Education, said in her keynote message. She encouraged the ALS implementers to continue their good practices, assuring them that they will be supported by DepEd and the Opportunity 2.0 program partners.
Throughout the 3-day event, the participants—ALS implementers, regional and division focal persons, and representatives from DepEd-BAE, USAID, and EDC—discussed different innovative ALS programs, the challenges they have experienced, and possible ways to scale up and move forward. Two resource speakers from community-based organizations shared how they implemented youth programs amidst the challenging context of the community they work with. This fueled the passion of ALS implementers and inspired them to pursue and further improve their ongoing ALS programs.
Through the exhibit, "Growing Opportunities for ALS Learners and Communities," participants were able to celebrate, reflect, and learn with each other. They had the chance to share about the successes of their programs and help each other in improving the ALS programs. Action plans were also crafted by each Division after the exhibit.
"Alternative ways of learning are here to stay. It will not stop just because we have taught the learners how to read and write…it is about preparation for life in ways other than formal learning," said Dr. Leonor Magtolis Briones, SEAMEO INNOTECH director, in her opening message.
SEAMEO INNOTECH is one with DepEd, USAID, and EDC in supporting the ALS programs in the Philippines. You can learn more about the different ALS-related programs of INNOTECH on our website.
Re-watch the Opening Session of the Opportunity 2.0 Mid-program Learning Summit