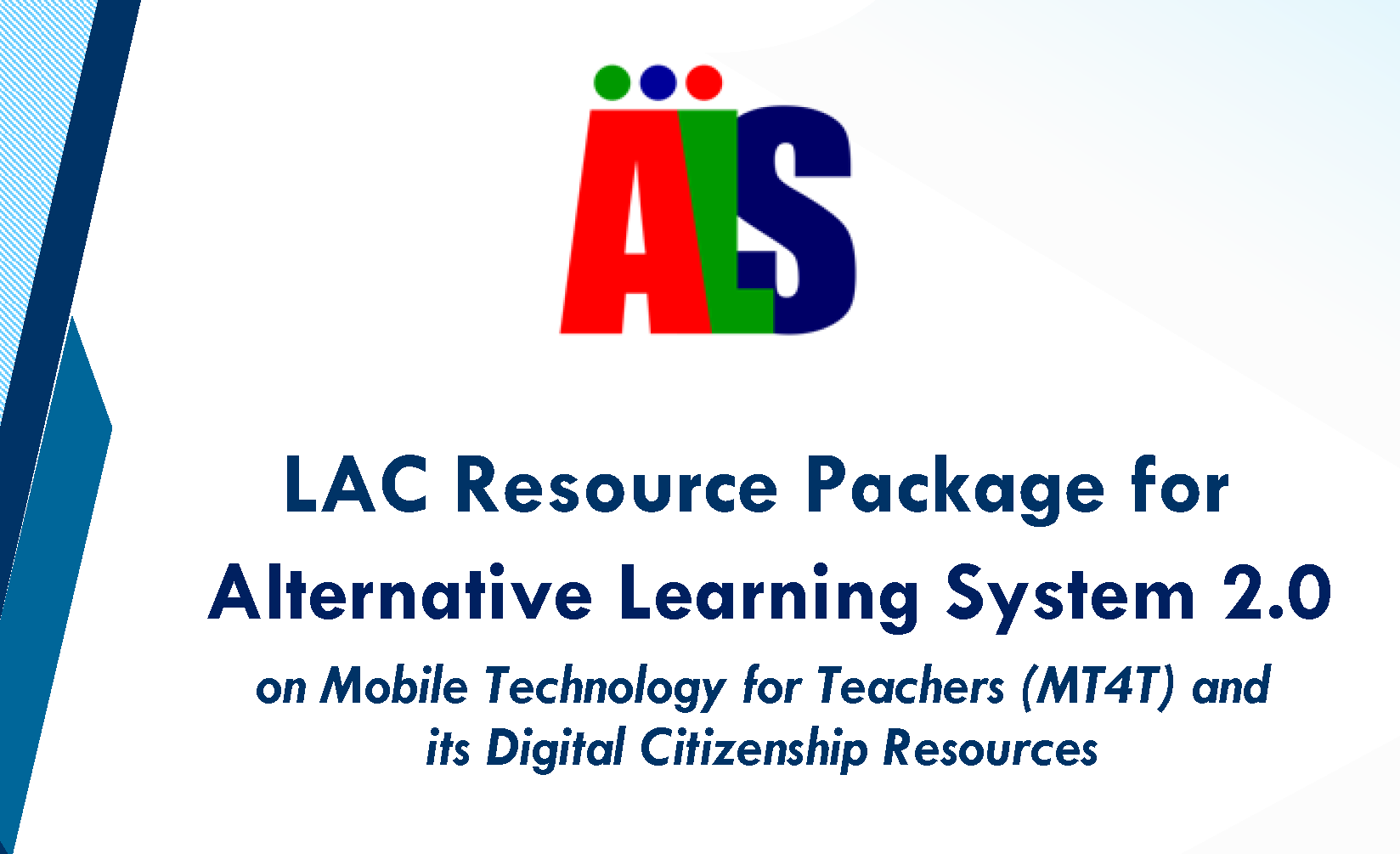 12 Aug

INNOTECH, DepEd, UNICEF develop LAC Resources for ALS Implementers

SEAMEO INNOTECH, in partnership with the Department of Education (DepEd) Alternative Learning System (ALS) and UNICEF Philippines, completed the development of a set of Learning Action Cell (LAC) resources specifically designed for ALS implementers. The "LAC Resource Package on Mobile Technology for Teachers (MT4T) and Its Digital Citizenship Resources" was developed under the tripartite project, Technical Support to DepEd Alternative Learning System 2.0 Plan, or TS-ALS 2.0.

The LAC resources for ALS implementers comply with DepEd Order 35, s. 2016, which pertains to the implementation of LAC sessions as a strategy for Continuing Professional Development to improve teaching and learning. These also seek to strengthen the learning delivery of ALS programs, particularly for the Learning Strand 6 of the revised DepEd ALS K to 12 Curriculum focused on digital citizenship.

The content of the LAC resources is drawn from SEAMEO INNOTECH's MT4T resource kit, which is also a recommended resource for ALS teachers under the DepEd ALS Learning Continuity Plan.

The resource package comprises two LAC guides, a set of editable presentation slides, competency assessments forms, and other supplementary materials. Keeping in mind the current situation of limited face-to-face interaction due to the COVID-19 pandemic, each LAC guide offers ways to also conduct the LAC sessions in remote set-up. The resource package is also complemented by a total of four instructional videos (averaging 30 minutes each) that provide an overview of the LAC guides and some tips for the LAC facilitators.

The LAC topics covered by this resource are on (1) "Enhancing Digital Citizenship through MT4T" and (2) "Contextualization of MT4T e-Citizenship Learning Packets." The first LAC topic intends to introduce the MT4T resource kit and promote its use among ALS teachers for teaching and learning and professional networking. The second LAC topic seeks to capacitate ALS teachers in contextualizing MT4T's set of learning packets on digital citizenship, called "e-Citizenship."

Each of LAC guide has two parts, which are meant to be delivered in succession. Completing the first LAC session guide is a pre-requisite for the second LAC session guide.

The resources were finalized based on the recommendations from the result of the field try-outs done in March 2021. Prior to its approval by DepEd ALS Assistant Secretary G.H. S. Ambat, the LAC materials underwent a series of reviews and refinements that included responding to comments received from UNICEF Philippines and ALS Task Force.

(Related article: INNOTECH pilot tests ALS LAC resources on MT4T in three regions)

The "LAC Resource Package on MT4T and Its Digital Citizenship Resources" may be accessed from the ICT4ALS website, and may be used as models for developing new LAC session guides for the DepEd Alternative Learning System.