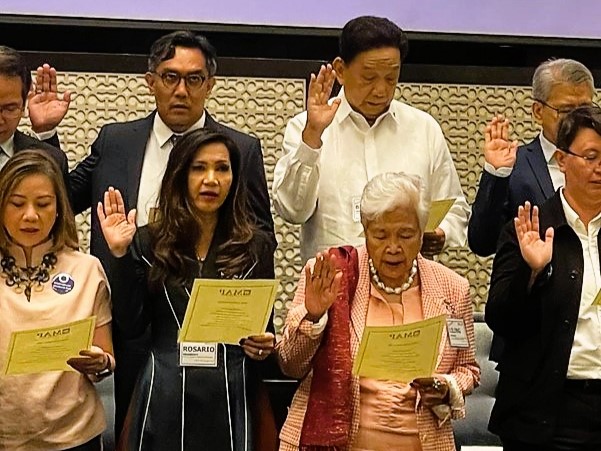 INNOTECH Director Leonor Magtolis Briones inducted into the MAP
Former Education Secretary Dr. Leonor Magtolis Briones has been inducted as a Regular Member of the Management Association of the Philippines (MAP). She is currently the Center Director of INNOTECH, a regional center on educational innovation and technology of the Southeast Asian Ministers of Education Organization (SEAMEO).
MAP is an established leading organization in promoting management excellence for nation-building in the Philippines.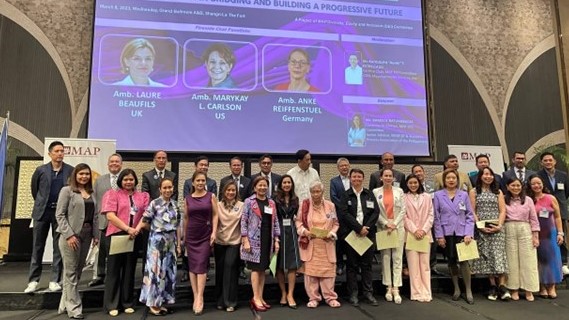 The induction took place in Taguig City on 8 March 2023, in line with the celebration of Women's Day and the MAP General Membership Meeting, carrying the theme "Role of Women in Bridging and Building a Progressive Future"
Present to administer the oathtaking of the new MAP Regular Members and the Life Members included MAP President Atty. Benedicta "Dick" Du-Baladad and MAP Diversity, Equity, and Inclusion Committee Governor-in-charge Ms. Karen Batungbacal.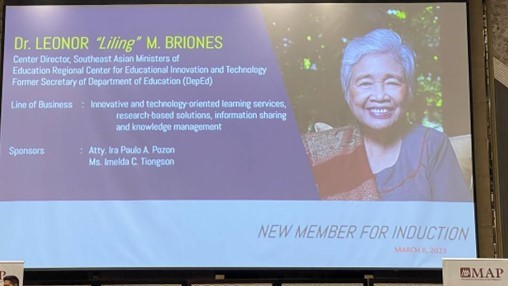 Dr. Briones was sponsored for membership by MAP Members Atty. Ira Paulo Pozon and Ms. Imelda "Ida" Tiongson. Ms. Tiongson is a staunch advocate of women empowerment, innovation, and fintech, while Atty. Pozon is a lawyer, and a public policy and government relations practitioner.
When asked about her thoughts on joining MAP, Dr. Briones said that she "is excited to be a part of this dynamic organization and hopes to actively participate in matters concerning education, the economy, and national issues."
Speakers during the Fireside Chat were three high-caliber women in leadership and foreign relations, namely H.E. Laure Beaufils, Ambassador of the United Kingdom to the Philippines, H.E. Marykay Carlson, Ambassador of the United States to the Philippines, and H.E. Anke Reiffenstuel, Ambassador of the Federal Republic of Germany to the Philippines.