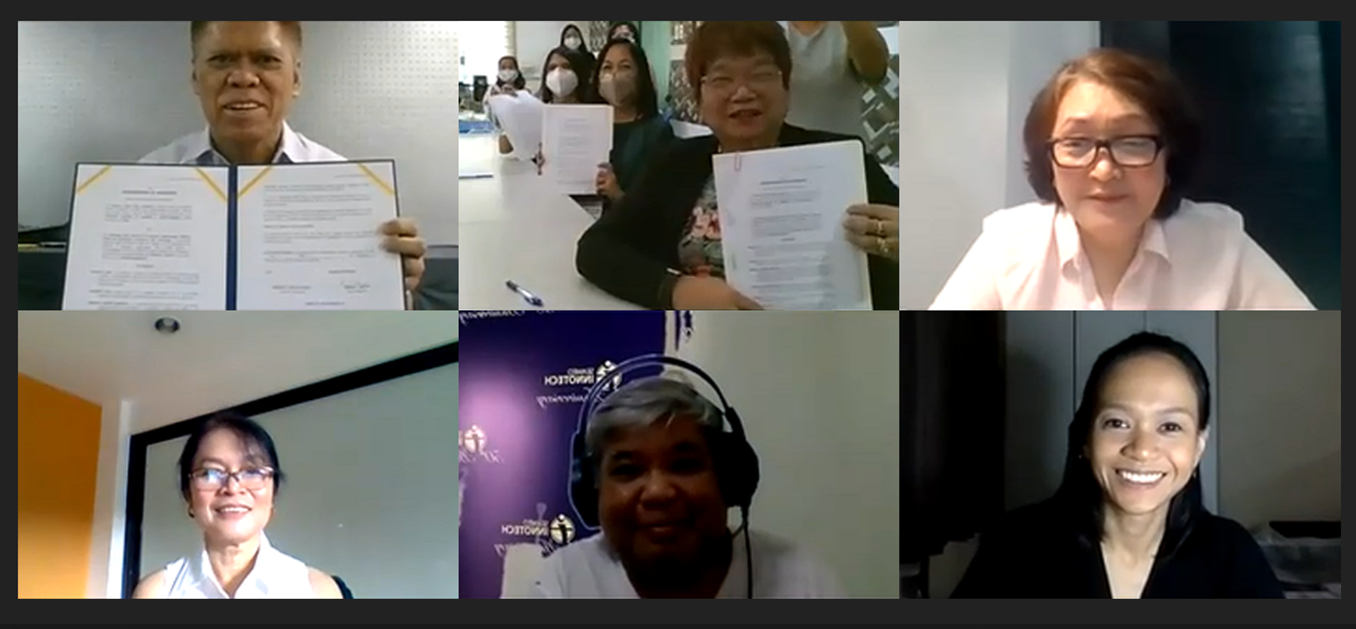 13 Oct

INNOTECH establishes cooperation agreement with SLSU

On 22 September 2020, INNOTECH conducted its second virtual signing of a cooperation agreement via Zoom Meeting—this time, with the Southern Luzon State University (SLSU). The partnership agreement will contribute to the faculty development program of SLSU, a premier institution for higher learning in Quezon Province.

The Memorandum of Agreement (MOA) was signed by Dr. Ramon C. Bacani, Center Director of SEAMEO INNOTECH, and Dr. Doracie Zoleta-Nantes, University President of SLSU. Dr. Sharon Joy Chao, Manager of the Learning Management Office of SEAMEO INNOTECH, Dr. Gondelina Radovan, VP for Academic Affairs of SLSU, and Dr. Marissa Esperal, VP for Planning, Research, Extension, Production and Development of SLSU, signed the agreement as witnesses. The MOA was instituted for the SLSU faculty members to undertake two courses, Flexible Learning Options and Design Thinking.

In his message, Dr. Bacani expressed the Center's delight in sharing its expertise with partner universities. "Over the years, we have developed our expertise in different areas of education. We would be happy to share this expertise with our network of partner universities." He also shared his optimism that both institutions will learn from one another in the implementation of the cooperative agreement between the two institutions.

In response, Dr. Zoleta-Nantes also expressed her gratitude to INNOTECH and looked forward to positive outputs that may come out from this collaboration. She further emphasized that the University aims to become a more relevant and active partner of the communities it served.

The online signing event was also attended by SLSU officials: Dr. Amalia Almazol (Head of Faculty and Staff Development Program), Prof. Percival Verano (Director of Instruction and Quality Assurance Office), Ms. Geri Mae Tolentino (Director of Intellectual Property Management Office and Program Planning and Administrative Support Services), Ms. Marjorie Atienza (Legal Officer), and Ms. Aurora Sumague (University Board Secretary). They were joined by INNOTECH staff: Ms. Edith Pimentel (Senior Specialist) and Ms. Mylene Kaye Dones-Mercado (Senior Associate) from the Learning and Training Development Unit; Mr. Benito Benoza (Manager), Ms. Jocelyn Rose Ilanan (Senior Associate), Ms. Ma. Victoria Laguda (Senior Associate), and Mr. Jason Parafina (Associate) from the Knowledge Management and Networking Office; and Mr. Rolan Mallare (Senior Officer) and Mr. Norman Solis (Senior Associate) from the Systems Management Unit.

Dr. Chao, in her closing message, recounted that INNOTECH started its online program 18 years ago focusing on the professional development of school heads and teachers. In those days, online learning was viewed mainly as an alternative to a mainstream traditional face-to-face training program. She underscored that "it never occurred to us that online learning would become full force in 2020…as a real and viable learning option for everyone."

Both institutions are hopeful that with this partnership, they will remain relevant to the communities they serve, bearing in mind their stakeholder's needs.