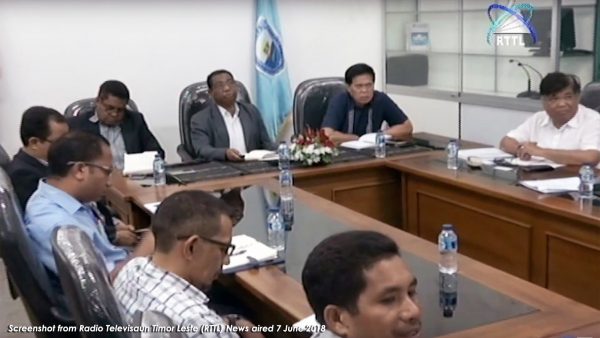 INNOTECH explores partnership with Timor-Leste MOEC, schools and universities
Dr. Ramon C. Bacani, SEAMEO INNOTECH Director, and Mr. Benito Benoza, Knowledge Management and Networking Office Manager, visited Timor-Leste from 4 to 9 June 2018 to explore possible areas for collaboration related to education. The trip involves visit to the Ministry of Education and Culture (MOEC), National Institute for Training of Teachers and Education Professional, as well as selected schools and universities in the country.  
Dr. Bacani and Mr. Benoza had the chance to meet with HE Prof. Dr. Fernando Hanjam, Minister of Education and Culture, and Hon. Mr. Luis Fernandes, Acting Director General of Policy, Planning and Partnerships of MOEC, during the visit. Along with representatives from other related education offices and agencies, the Timor-Leste's current situation as well as ongoing developments in the education landscape were presented. The country's Education 2030 plan, which focuses on providing better access to primary and secondary levels, was also introduced during the meeting. 
The team's visit to Instituto Nacional de Formação de Docentes e Professionais da Educação (INFORDEPE), or the National Institute for Training of Teachers and Education Professional, was brief but comprehensive. Aside from the institution's professional development and curricular initiatives, the use of technologies such as tablets and mobile phones, to supplement classroom instruction and their programs were also shared. 
Dr. Bacani and Mr. Benoza also visited schools and universities to observe good practices and projects on teaching-learning interventions in Timor-Leste. The visit to the National Institute for Science and Technology and to the National University of Timor-Leste resulted to possible partnerships and collaborative projects for the Center.   
Timor-Leste MOEC and SEAMEO INNOTECH envision more collaborative activities in the future that aim to further improve the education system of Timor-Leste and the entire Southeast Asian region. These plans and activities will be further discussed in the upcoming Governing Board Meeting of SEAMEO INNOTECH set to happen in Timor-Leste this October 2018. 
SEAMEO INNOTECH expresses its gratitude to the Timor-Leste Embassy in Manila and the Timor–Leste MOEC International Cooperation and Partnerships Office for helping organize the various meetings and visits to the said institutions.