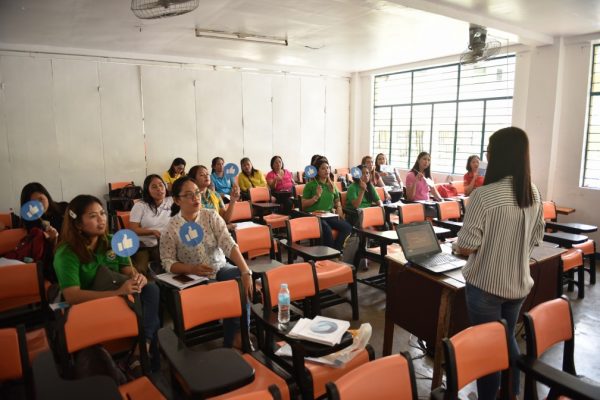 INNOTECH introduces e-Citizenship to public high school
On 13 September 2019, the Educational Innovations Unit of SEAMEO INNOTECH conducted its first school-based orientation of the e-Citizenship Resources at Benigno Aquino Jr. High School (BAHS). This activity hopes to capacitate teachers in responding to the increasing incidence of cyberbullying among students, as well as introduce ways on how they can better teach digital citizenship to them.
As the use of technology becomes more prevalent, particularly with the younger generations, it is important that students become more knowledgeable of its opportunities and risks and be more responsible in using these technologies. Teachers play a big part in helping young people use these technologies safely and considerately. Teachers can impart knowledge, raise awareness, boost critical thinking, cultivate socio-emotional intelligence, and set good examples for learners. The e-Citizenship resources equip teachers with knowledge and understanding of the digital world.
e-Citizenship is part of the Center's Mobile Technology for Teachers (MT4T) – a collection of digital materials on the use of mobile technology for classroom teaching and teacher's professional development. The e-Citizenship resources consist of an e-Book and 10 learning packets focused on digital citizenship and cyberwellness. It covers topics on (1) Being Mobile, (2) Teenpreneurship, (3) Herd Mentality, (4) Cyberstalking, (5) Exposure to Inappropriate Content, (6) Trolling, (7) Cyberbullying, (8) Plagiarism and Misinformation, (9) Internet Addiction, and (10) Cybergrooming and Online Exploitation.
Through the one-day activity, the teachers of BAHS got to try out four learning packets focused on topics that the BAHS school principal, Ms. Cristina P. Tablanza, specifically identified as most aligned with current online threats, which their students are exposed to. These threats include cyberbullying, exposure to inappropriate contents, cyberstalking, and cybergrooming and online exploitation.
The whole day activity likewise provided teachers better understanding of the opportunities and risks that come with the use of technology. They also gained insights on how they can better communicate those opportunities and risks with their students.
Learn more about e-Citizenship on the MT4T website.