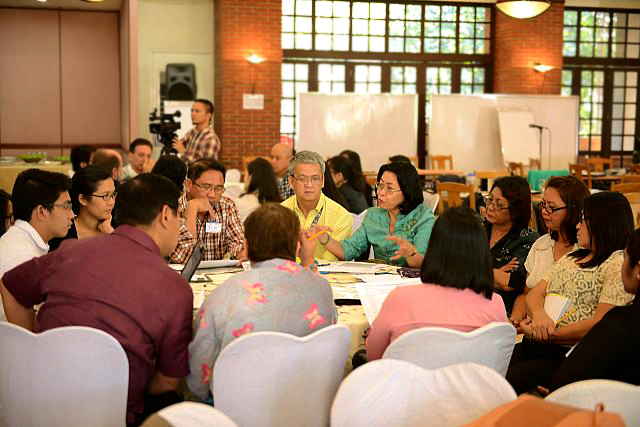 22 Jun

INNOTECH launches National EFA Report

In 2000, the international community agreed on an agenda to reach six key educational goals by 2015—early childhood care and education, universal primary education, youth and adult skills, adult literacy, gender equality, quality education—branded as the Education for All (EFA) goals.

Now that the deadline of these goals have been reached, SEAMEO INNOTECH, together with other partner organizations, convened last 18 June 2015 at the SEAMEO INNOTECH Center to launch the EFA reports, discuss the practices and challenges in achieving EFA locally, and plan for more actions and strengthen partnership to reach EFA.

"In the same way that it takes a village to educate a child, it takes a whole nation to reach this goal of education for all." Said SEAMEO INNOTECH Center Director, Dr. Ramon C. Bacani.

"There's much to celebrate. There has been tremendous progress since 2000 that we must not forget." Ms. Nurhajati Sugianto, Programme Assistant from UNESCO Jakarta, said as she discussed the highlights of the EFA Global Monitoring Report.

Although the EFA goals were not reached, it can be seen through the report that education for every learners has improved significantly. There have been an almost two-thirds increase in the number of enrollees in pre-primary. The number of out of school children has greatly decreased. Participation in lower secondary education has increased quickly since 1999. The rate of illiteracy has dropped. Progress in tackling severe gender disparity has been made. Primary school teachers are trained up to national standards. These are just a few of the achievements made by different countries. And now, more and more organizations are participating and committing to help reach these goals.

Department of Education Assistant Secretary Jesus L.R. Mateo, also the head of the National EFA Committee, told everyone about the plans and practices of the Philippines in line with the EFA goals. Some of the DepEd programs he mentioned were the Early Years Act of 2013, Mother tongue based multilingual program, Tech-Voc education, and Alternative Learning System. He emphasized that these programs could do better with the help of partnerships.

"What's important right now is for all of us to work together to monitor the progress of these programs in relation to the direction of the department, as well as in relation to the challenges that the education sector is facing right now." ASec Mateo said.

The whole day event also included plenary sessions by Dr. Jose Ramon Albert of Philippine Institute of Development Studies who talked about out of school children, DepEd Undersecretary Mario Deriquito who talked about identifying the last mile learners, Mr. Efren G. Peñaflorida, President of Dynamic Teen Company, who talked about Kariton Klasrum, and Ms. Roda Mañalac from DepEd who talked about the Abot Alam Program. Participants were also able to identify and suggest action plans to further improve the education programs and also to strengthen the partnership within different organizations.

Education for All is a global commitment led by UNESCO to provide quality basic education for all children, youth, and adults. SEAMEO INNOTECH was tasked by the Philippine Department of Education to conduct a study, assessing the implementation of EFA and prepare a catch up plan that will bring the country closer to its EFA goals.