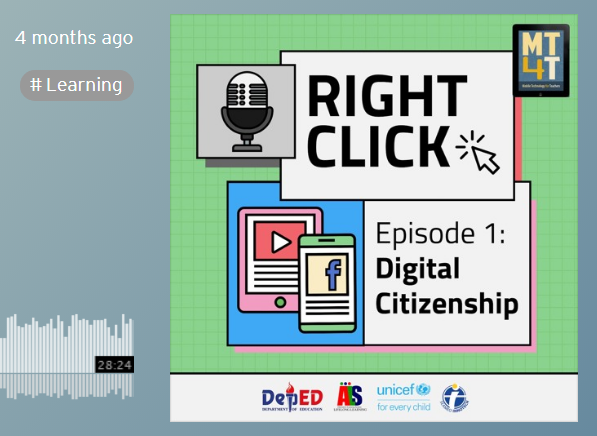 INNOTECH launches "Right Click," a podcast on digital citizenship
SEAMEO INNOTECH launched its podcast, "Right Click" in December 2020 as part of the capacity-building program for the Philippines' Alternative Learning System (ALS) implementers. "Right Click" is a podcast on Digital Citizenship produced under a tripartite project with the Department of Education (DepEd), UNICEF Philippines, and SEAMEO INNOTECH.
With the increasing use of online platforms as alternative means of delivering education, ALS implementers are faced with new challenges. One of which is making sure that ALS learners also demonstrates knowledge and skills on the productive, safe, and responsible use of digital tools and resources. In addition, DepEd – ALS recently included digital citizenship as a Learning Strand in the ALS K to 12 Basic Education Curriculum. With these developments, there is an increased demand for resources on digital citizenship, which ALS teachers can use to teach among its learners. The podcast series developed by the Center is one way of addressing the need for such resources.
"Right Click" consists of 20-minute interviews with known digital citizenship experts. Through these interviews, topics such as online safety, responsible use of technology, and productive behavior in the cyber space were discussed in the context of ALS. The podcast episodes also include practical tips on how learners can remain safe online and take advantage of the opportunities that digital technology offers, both for teachers and learners. Through the podcast, ALS teachers can acquire relevant insights on how to guide their learners towards becoming responsible digital citizens.
Currently, "Right Click" has 4 episodes featuring the following education experts: (1) Mr. Firth McEachern, co-author of the MT4T e-Citizenship e-book, for the topic on "digital citizenship;" (2) Ms. Ma. Melizza Tan, Adolescent Development Specialist of UNICEF Philippines, for the topic on "benefits provided by digital technology;"  (3) Professor Queena Lee-Chua of the Ateneo de Manila University, for the topic on "digital risks and threats;" and (4) Mr. Ysrael Diloy, Senior Advocacy Officer of Stairway Foundation, for the topic on "how to remain safe on the Internet."
The "Right Click" podcast episodes are accessible from the SEAMEO INNOTECH Soundcloud and YouTube Channel. To know more about Digital Citizenship, visit the MT4T website: https://www.seameo-innotech.org/mt4t.
Listen on SoundCloud:
Watch on Youtube: