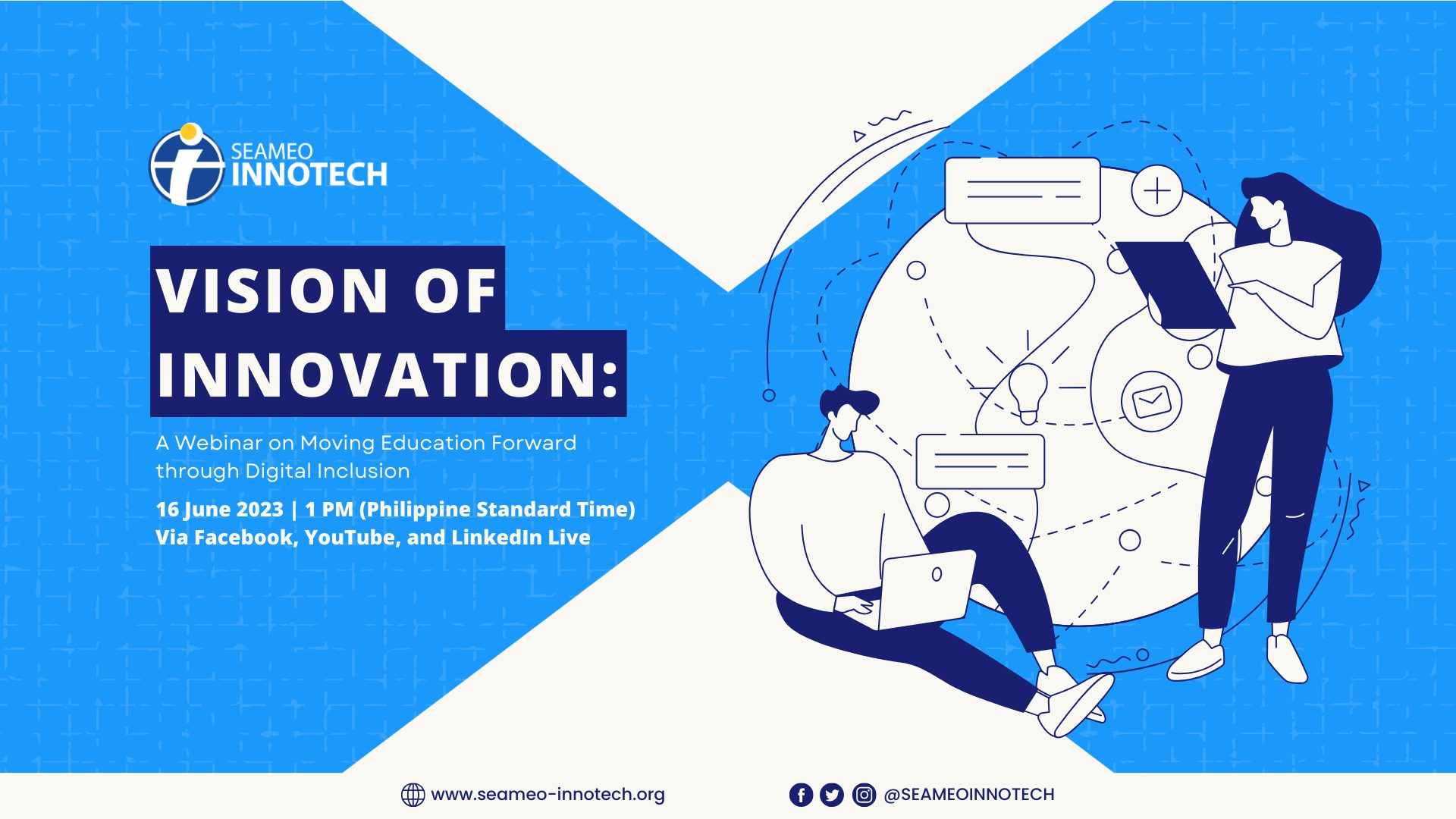 INNOTECH Opens Discussions on Digital Inclusion
The world was forever changed by the COVID-19 pandemic, and the education landscape has undergone a remarkable transformation. Despite the challenges, this shift brought about innovations and renewed discussions on digital skills, learning methods, and the role of technology in education. Southeast Asia swiftly embraced digital technology to ensure that learning continued.  However, the pandemic also revealed deep-rooted inequities exposing inequalities in access to technology both within and between countries. We may have returned to face-to-face classes, but the method of delivering education will no longer be restricted to traditional approaches. 
Recognizing the importance of digital inclusion, INNOTECH hosted a knowledge sharing forum entitled, "Vision of Innovation: A Webinar on Moving Education Forward through Digital Inclusion" last 16 June 2023. This aimed to (1) raise awareness on the barriers that are causing the digital divide in education and highlight Digital Inclusion to address these issues, (2) identify ways on how digital inclusion can help sustain the educational gains achieved in the last three years, and (3) empower learners, teachers, and school leaders to harness the benefits of digital technology in education.   
INNOTECH Director Prof. Leonor Magtolis Briones opened the webinar with a short message, highlighting the significance of digital inclusion in education. She implored the participants to ask themselves the question: "how do we move education forward and how can we prepare for the future ahead?" 
To further establish the goals and theme of the webinar, INNOTECH invited experts to tackle the concepts of digital inclusion and citizenship. Dr Albert Liau, the education director of research at DQ Lab introduced the concept of digital inclusion in his keynote message and provided regional contexts. He also highlighted that there is still a great deal of lag in digital inclusion. The average, he added, only stands at 51% in 2020. "Today we need to move beyond just talking about access. We need to talk about use as well," Dr Liau remarked. 
Fernand Pitagan, the director of Information and Communication Technology Service unit (ICTS) of Department of Education, talked about digital accessibility. He underscored the value of not just looking at device accessibility, but internet accessibility as well. Dr Pitagan called for solidarity among government units, organizations, and the private sector to come together and foster digital inclusion. He also added that data on digital inclusion should be worked on, and should be made available to public, especially researchers, policy makers, and education leaders, so that officials like him will know the best way to foster this inclusion. 
Dr. Christian Milambiling, a consultant from INNOTECHS's Educational Research Unit shared his the results of their research on digital citizenship. The case study provided context on how select Southeast Asian Ministries of Education promote digital citizenship competencies. On behalf of the research team, Dr Milambiling also cited the conclusion and recommendations to further strengthen the region's digital citizenship. 
Francis Jim Tuscano, an Ed-Tech coordinator in Xavier School, suggested some ways in which educators can sustain the innovations and improvements made during the pandemic. He also discussed why digital inclusion is being pushed as one of the solutions for the future of education. "Our main goal is to promote equal opportunities," Tuscano stated, "which means that we see… our world [as] digitally driven. And because it's digitally driven, when we want to fully participate as individuals in this digital society, we must have access to digital tools to be able to use them and learn."  
Galvin Ngo, the director Ateneo de Manila University, Institute for the Science and Art of Learning and Teaching (SALT) provided a comprehensive synthesis of the presentations. Drawing from Dr Liau's presentation, he reflected that there is something educators often miss. "If we nuance our understanding of digital inclusion, it also means thinking about how we've actually been using technology in our teaching, but also how learners have been using the technologies that they have been exposed to. So, it's one thing to give them a tablet, it's another thing for them to actually use the tablet for learning. So, what are the how's? I think it's something we don't think about as often," he added.
Galvin ended his synthesis by encouraging the viewers to consider digital inclusion beyond the concept of "adding," but to see it as preparing the learners to engage in this new society "where the digital and the physical, and the lines between these two worlds are beginning to blur." 
To learn more about Digital Inclusion's role in shaping the future of education, you can watch the replay below: