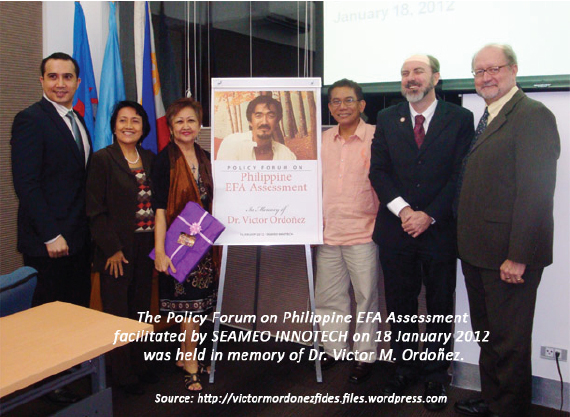 INNOTECH ORGANIZES TALK ON THE CHANGING ECOLOGY OF LEARNING: ICT IN EDUCATION
The Center is organizing an afternoon of conversations focusing on current technologies in education to be held on 29 July, 1:30 p.m. at the Pearl Hall of the SEAMEO INNOTECH campus. The event is organized in memory of the late Dr. Victor M. Ordoñez and done in coordination with the Victor M. Ordoñez Fides and the Philippine Department of Education.
The conversation intends to expound on one of the main themes in Dr. Ordoñez's work in education: the disconnect between standard programs of study and the world of work. Dr. Ordoñez said that this could be bridged by helping teachers gain skills in technologies their students use.
The conversations also aim to provide a venue to "share insights on how technology-savvy students learn in today's classroom, the surprising encounters with the reality of ICT, and innovations that have come out of experiences."
The event will be led by Dr. Molly N. Lee, education consultant and former program specialist in higher education of UNESCO-Bangkok. Invited to the event are education leaders, academicians, former colleagues and friends of Dr. Ordoñez who share the same "passion for looking into diverse areas of learning and surfacing new ideas for future learners."