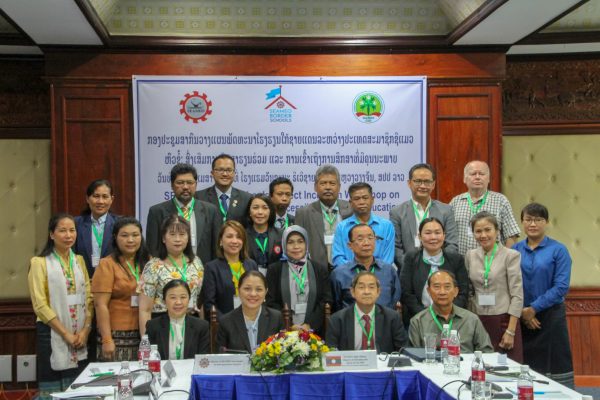 INNOTECH participates in SEAMEO inter-Center collaboration workshop for Border Schools Project
SEAMEO INNOTECH, represented by Educational Innovations Unit Specialist, Ms. Lauren Nerisse S. Bautista, participated in a 3-day inter-Center collaboration workshop led by the SEAMEO Secretariat and SEAMEO Regional Center for Community Education Development (SEAMEO CED), from 2 to 4 April 2019 in Vientiane Capital, Lao PDR. Along with representatives from other SEAMEO Centers across the region, the workshop served as a platform for the different Centers to understand the challenges faced by border schools in SEAMEO member countries and to collaboratively develop innovative solutions to provide inclusive and accessible quality education for the children in the border schools.
Schools that are situated at the borders of countries, such as Lao PDR, Thailand, Cambodia, Vietnam and Myanmar, face many challenges such as lack of learning materials, low teacher motivation, lack of infrastructure, high dropout rates, and health-related issues.
While Lao PDR and Thailand representatives shared the context and challenges of border schools, representatives of SEAMEO Centers shared good practices and initiatives that promote inclusive and accessible education in rural and remote schools in the region. INNOTECH shared insights related to its projects, which support the Philippine K to 12 education programs such as the Multigrade Program in Philippine Education (MPPE) as an alternative delivery mode in rural and remote areas, and the Alternative Learning System (ALS) for out-of-school youth and adult learners. INNOTECH also presented its regional project of documenting and collecting case studies of alternative learning modalities (ALMs) in the region. Previous research projects on school health and nutrition and managing small schools were also shared to the group as related studies on educational innovations to improve and promote inclusive quality education in the region.
The discussions among the participants and their visit to the border schools in Lao PDR helped the workshop participants to better understand the current situation of border schools. The challenges faced by the border schools were seen as an opportunity to further improve access and quality of education for school-age children in these areas.
Discussions among SEAMEO Centers and partner organizations are ongoing to develop a detailed plan of action to support the border schools in selected countries in Southeast Asia.