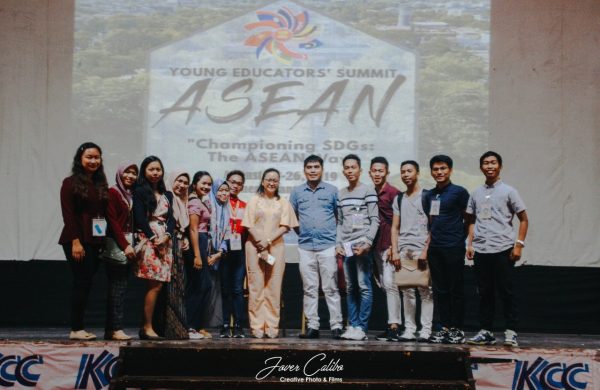 INNOTECH presents ASEAN integration study during Young Educators' Summit
Dr. Sherlyne Almonte-Acosta, Educational Research Unit Senior Specialist, represented SEAMEO INNOTECH on the recent Young Educators' Summit-ASEAN held in General Santos City on 25 August 2019. Speaking in front of hundreds of young educators, Dr. Acosta had the chance to discuss the change management responses of the different countries in the region on increasing ASEAN Integration.
This year's Young Educators' Summit-ASEAN revolves around the theme, "Championing SDG's: The ASEAN Way." The summit highlights the efforts of the region in achieving the SDGs in different disciplines. It revolves around 5 sub-themes—People (Katawhan), Peace (Kalinaw), Planet (Kalibutan), Prosperity (Kalambuan), and Partnership (Kaduyog)—that represents areas of action contributing to the achievement of the global goals. Dr. Acosta had the honor to serve as plenary speaker on the sub-theme Katawhan: People.
In her session, Dr. Acosta discussed the findings of the recent SEAMEO INNOTECH research study, Regional Research in ASEAN Integration: Change Management Response of Selected Southeast Asian Ministries of Education. In this research, INNOTECH documented and analyzed the strategies implemented by the different Ministries of Education in the region as they respond to the demands and challenges of ASEAN integration. The study shows that each country has their own strategy in response to ASEAN integration, taking into consideration their unique and individual context. Still, the countries have a common path in their change management: (1) Trigger for Change; (2) Reconnaissance; (3) Plan of Change; (4) Implement Change; and (5) Monitoring and Evaluation. The study also highlighted the importance of a firm support from the government and leaders to move the strategies forward, allowing learners to develop skills and become competitive in the ASEAN region.
The ASEAN integration, while a big challenge to the education sector, is a great opportunity to move forward with the Sustainable Development Goals. What each ASEAN country builds at the regional level will also contribute to the achievement of the global goal.
Know more about the Regional Research in ASEAN Integration through the INNOTECH website.