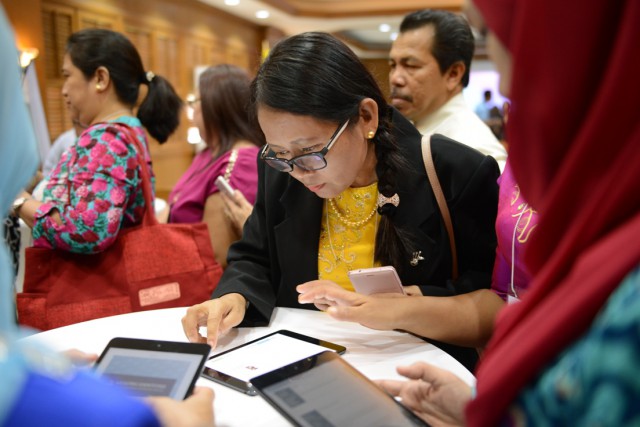 INNOTECH re-launches Weaving Identities Toolkit
With the regional integration moving forward to the ASEAN 2025, SEAMEO INNOTECH re-launched "Weaving Identities: A Teacher Toolkit Towards a Southeast Asian Community" on 19 July 2016.
Weaving Identities is a resource kit comprised of information, teaching-learning materials, and support materials about the shared values, history and heritage of the region. The toolkit is designed to provide easy access to a range of learning materials about Southeast Asian Community – its culture, politics, and economy – which can be used as reference materials and/or aid in classroom instruction.
(Related article: INNOTECH launches new knowledge products)
Aside from the previously launched website and printed toolkit, Weaving Identities now has an ePub version which allows users to easily access the toolkit through their mobile devices. It also has a toolkit manual which can guide users to its different features and content. Both website and ePub toolkit are equipped with more resource materials.
Invited guests were introduced to the features of the website and toolkit. Website contents are categorized into three: Culture, Politics, and Economics, which are derived from the three pillars of the ASEAN Community. The website also features comparisons, commonalities, linkages, and relevant materials for each sub topic. It also has an upload feature where users can share their own materials. Aside from the previous content of the printed toolkit, the ePub version also includes a manual, references, web links, photo gallery, videos, as well as games that can be used for classroom instruction.
Mr. Philip Purnell, Manager of SEAMEO INNOTECH's Educational Research and Innovation Office (ERIO), said this toolkit is a living resource that will continuously be improved. "We encourage you to share your tools so that other Southeast Asian educators can use it too," he said. "We hope that these resources will help Southeast Asian educators promote the Southeast Asian Community – weaving various identities, shared histories, and diversity of the countries," he added.
ASEAN 2025 vision focuses on strengthening regional community building. This is one of SEAMEO INNOTECH's ways of supporting this vision. To know more about the toolkit, read through this brochure or visit the Weaving Identities website.