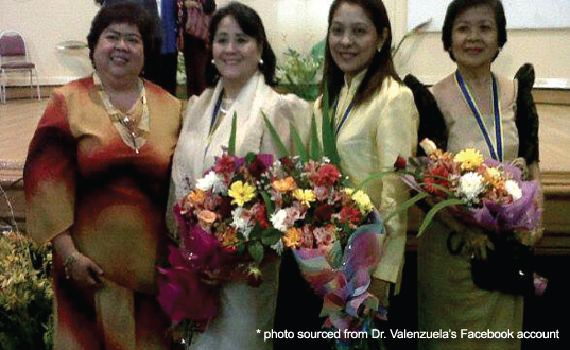 INNOTECH SENIOR RESEARCH SPECIALIST CONFERRED ROYAL BLUE EMINENT ALUMNA AWARD
Dr. Ethel Agnes P. Valenzuela, SEAMEO INNOTECH's senior research specialist and head of the Research Studies Unit, was among Philippine Normal University's Eminent Alumni awardees. The distinction was given in recognition of the exemplary accomplishments of the University's alumni in their chosen fields of profession and undertakings, which have brought honor and prestige to PNU.
Dr. Valenzuela received the award during a recognition program held on 30 September 2013 at the Philippine Normal University's auditorium. The program, dubbed "Pagkilala 2013" also served as a concluding event to PNU's celebration of its 112th founding anniversary.
She is a team leader in various research projects of SEAMEO INNOTECH including the K to 12 Toolkit (2012), EFA Assessment (2012), K+12 International Comparability Study with Brunei Darussalam, Malaysia, and Singapore (2011); Survey of Folktales in Southeast Asia and Korea (2010); Teaching Competency Standards in Eleven SEAMEO States (2009); Decentralization in Educational Management in Southeast Asian Countries (2009): Content of Social Studies Curriculum in Southeast Asia:Towards Preparing an ESD Toolkit (2010); Access to and Demand for Secondary Education (2008); and Multigrade Teaching Audit in Eleven SEAMEO countries (2010).
Dr. Valenzuela was the principal researcher in several UNESCO studies namely, "Integrating ED in Teacher Education" (UNESCO Paris, 2013); "Toolkit for the Recognition of Higher Education Qualifications" (UNESCO Bangkok, 2013); "Employability of Graduates" (UNESCO Bangkok and Indonesia, 2010); "Nonformal Education Life Skills Action Research" (UNESCO APPEAL, 2006); "Assessment of Mother-Tongue-Based Education" (UNESCO APPEAL, 2009); "Secondary Education Financing" (UNESCO EPRU, 2011); and "Migration and Mutual Recognition" (UNESCO Headquarters, 2008), to name a few.
Dr. Valenzuela is also a Senior Lecturer at the University of the Philippines College of Education and a Commission on Higher Education Technical Panel member on Distance Education. In addition, she is a Board of Trustee member at the Philippine Educational Measurement and Evaluation Association (PMEA), and a SEAMEO World Bank Multilingual Education Research Fellow.
Dr. Valenzuela holds a Doctor of Education degree from the De La Salle University (1999) and was trained in higher education in the 21st century at Michigan State University, Georgetown University in Washington DC; University of Texas at Austin Texas; and Stanford University under the US International Visitors Leadership Program in 2001.